PUMPKIN SPICE LATTE SEASON IS HERE:
The season of Pumpkin Spice Lattes has started. Of course, if you don't want a hot PSL, you could opt for a Pumpkin Spice Frappuccino too.
The early-sippers of PSL are beginning to enjoy their Pumpkin Spice Lattes now by unlocking Starbucks stores with a code and a badge.
Here's my first PSL drink this season: I opted for a Frappuccino for my #FirstPSL: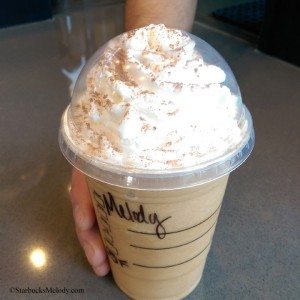 Starbucks customers can show baristas a badge (shown below) and provide a code to "unlock" a Starbucks store. If the store hasn't been "unlocked" the Pumpkin Spice Latte isn't available until September 2, 2014. I asked readers to send in their #FirstPSL photos and got these great pictures!
PUMPKIN SPICE LATTE VIA READY BREW: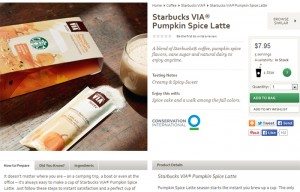 I also want to mention that this is the first year for Pumpkin Spice Latte Via. You can find it on StarbucksStore.com here. This is the first year for this Pumpkin Spice Via – it's not the same as last year's version. The first year of Pumpkins Spice Via was 2012: You can view the old version of the PSL Via here. The discontinued, older (2012 – 2013) version of PSL Via were non-dairy products. The instructions were to add 8 ounces of hot milk to the Via mix for a great Pumpkin Spice Latte.
The 2014 version of the Pumpkin Spice Latte Via does include dairy. Notice that the packaging says "simply add hot water" and tells you that it's made with "natural dairy." Again, the 2014 verision of PSL Via ia already available on StarbucksStore.com here, and will be in Starbucks stores everywhere (as well as many grocery retailers) September 2, 2014. I've had a few readers tell me that the new Pumpkin Spice Latte Via is already starting to show up in grocery retailers. I'm looking forward to trying this new version. I haven't yet.
Feel free to weigh in on anything Pumpkin Spice related!
Have you had your #FirstPSL yet?
Related posts