Starbucks Japan has all the cool Via Ready Brew/ Coffee Essence schwag
Melody, May 21, 2010
19
2 min

read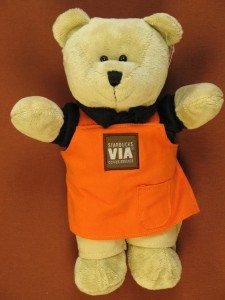 When it comes to merchandise for Via Ready Brew, Starbucks Japan is the mother-lode.  They got all the cool schwag. It's unbelievable.  I'm so jealous and I do not understand why Starbucks plans tons of cool merchandise for Japan, but here in Seattle, we're left out in the cold and rain. Thanks to Noboru Sakamoto the most famous Starbucks customer in Japan, StarbucksMelody gets a chance to show this merchandise off to you. Mostly this blog post is one big "how cool is that" blog entry.  Remember, in Japan, Starbucks Via Ready Brew is actually called Starbucks Via Coffee Essence.  It's the same product as what we have all over the United States, just a different name.
Just a short background about this product: it was first launched in Seattle and Chicago only in March of 2009.  On September 29, 2009, Starbucks launched Via throughout the United States and Canada.  Also, on March 25, 2009, selected London Starbucks locations received it.  The launch of Via in Japan was April 14, 2010.  I covered a blog entry on it here:
I owe lots of thanks to Noboru Sakamoto for sending me some cool merchandise from Japan.
I have written about Via as blog posts so many times that the easiest way to browse them all is by using the "categories" tab. Be sure to read the blog post on the forthcoming  product which is a pre-sweetened Iced Via.  Here is the link to all of the Via blog posts:
The 12 ounce tumbler featured below is one single tumbler with one side of it as Columbia and the other side as Italian Roast. It almost looks like I am featuring two different tumblers so I thought I would clarify that is just one item.  There are even cell phone accessories! Very cute!
So what is your prized Via schwag item,or your favorite Via Ready Brew story? What do you think of it?
Related posts