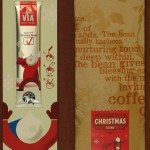 This holiday season at Starbucks, you will be able to buy Via Ready Brew in Christmas Blend flavor.  For those that do not know, the Christmas Blend whole bean coffee is a blend of beans including Aged Sumatra which gives it its quintessential spicy, bold flavor.  My understanding is that this new Via will be released in the United States about mid-November.  One odd thing is that the Starbucks Japan market seemed to get their Christmas Blend Via in much earlier than here in Seattle.  Last week fellow blogger and Starbucks enthusiast Kaori (who produces a Starbucks blog with its focus on Japan) already had photos up of Christmas Blend Via.
Kaori's Starbucks Japan blog post with images of Christmas Blend Via (Hope you will visit her blog too!)
I'm very thankful that a friend in Japan sent me some Christmas Blend to try.  It arrived in my mailbox late last week, and then I ran to my friend Molly of Seattle Custom Framing who took the photos below.  My friend who sent me the Via also threw in the package a Starbucks tote bag too.  To be honest, I am not sure if that is a regularly available item in Japan, or what the story is behind it, but I thought I'd show it here too.  My friend is offline for a few weeks so I can't follow up with him at this time.
Notice the extremely clever packaging of the Japanese version of Christmas Blend Via.  It comes packaged in little packets of two with the word "share" on it.  The clear idea here is that you should be sharing a cup of Via with a friend! One for you, one for a friend.  I love it.  The paired Via is in pre-perforated packaging to make it easy to rip one off and give to a friend, and keep one for your own cup of coffee.  Also notice, since this is the version sold in Japan, it is actually labeled "Coffee Essence" not "Ready Brew".  The gossip I've heard is that the United States version of Christmas Blend Via will come in standard packaging of 12 Via packets in a box.  I don't know the price point for this new Via.
I'm drinking a cup of it right now as I write this blog post.  One thing I noticed right away is that it seemed to have a much stronger, fuller, bold aroma than either the previous two versions of Via (referring to Colombia Via and Italian Roast Via).  This Via is definitely overall bolder than the previous two versions of Via.  I think I might have poured just a little too much water in my cup, but it is still very good.  The mouth feel is only a light to medium body whereas I suspect that a French press or Clover cup of whole bean Christmas Blend would be a little heavier in the mouth.  There is definitely some spiciness to it, but not a lot.  I have to admit, I genuinely do like Via.  It's an ingenuous way to have a good, quick cup of coffee.  This is delicious.  I really like it.  It has a lingering finish that makes me want another sip.  This will be easy to sell once people try it.
This blog has touched on the topic of Via Ready Brew many times.  Here's a collection of Via Ready Brew blog posts from the past:
Previous blog posts at StarbucksMelody.com on Via Ready Brew.
I'm looking forward to your comments on any Via-related topic.  Thanks again for being a part of the blog.  I don't say thank you enough to the many people who make this blog work, and that includes those who leave comments and all the readers.  Thank you.
Related posts