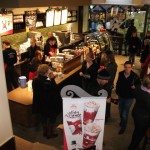 A brand new Starbucks has opened up in Bielefeld, Germany!  This is Starbucks' 144th store in Germany.  There is a news announcement of the new store here, posted on a local German newspaper, November 25, 2010:
Neue Westfälische.de – Starbucks startet in Bielefeld durch
According to the news article, "Offiziell öffnet die amerikanische Coffeeshop-Kette erst heute ihre gläserne Eingangstür in der Niedernstraße 41. Doch viele, die es nicht abwarten konnten, bekamen schon gestern einen Vorgeschmack". (("The American coffeeshop-chain officially opens just today their glass entryway doors on Niedernstraße 41.  Yet many, who could not wait, already received yesterday a preview (of it)."))
The preview event for this new store was on November 24, 2010, and Sebastian went to it!  According to the news, "Geladene Gäste durften am späten Nachmittag die erste Starbucks-Filiale Ostwestfalens in Augenschein nehmen: Facebookmitglieder, Mitarbeiter der Schülerzeitungen und die örtliche Presse."  (("In late afternoon, invited guests were permitted to take in the first Starbucks-branch in Ostwestfalens (an area of Germany):  Facebook participants, workers (student employees) of the student papers and the local press."))
Sebastian's luck was fantastic.  He says that for the preview event, only ten people were selected in a contest on a Facebook, and he was picked to be one of the ten Facebook fans to go to this preview event!  The preview event included nine store partners, a store manager, Daniela Stamm, and the district manager, Christof Opiela.  The preview event began with a traditional coffee tasting with Kenya and Christmas Blend for the coffees.  The coffee tasting was lead by the store manager.  Sebastian reports that the seating area is upstairs and the register/bar area is downstairs.  He says that the event was fun, and that the partners seemed very happy and relaxed and it was a great atmosphere.  It sounds like it was a success.
From the news article, I like the description of syrups in coffee: "Wer's süß mag, bekommt einen Schuss Sirup dazu, je nach Gusto mit Pralinen-, Mandel oder dem zurzeit beliebten Lebkuchenaroma." ((Whoever wants something sweet, (can) get a shot of syrup in the coffee, according to one's gusto, with chocolate-, almond or at the moment, the beloved-gingerbread aroma.))  That's a great syrup description. If you've got the gusto for it, throw in a shot of syrup in your coffee.  Some people really do go for the gusto when it comes to syrups!
One interesting piece of trivia that Sebastian picked up while at the event:  A new Starbucks in Germany typically takes about 18 months before it starts turning a profit.  Below are the photos he took from the event.  I particularly like the photo of the condiment counter:  I am not totally sure I can identify everything on it.
It is amazing how Starbucks is expanding internationally, though Germany is a very small market.  Starbucks has stated that their largest international market will one day be China.  From reading the article and in conversation with Sebastian, this looks to be in fact a new store, and not a major remodel of an existing store.
Enjoy the photos, and feel free to weigh in … It seems like the odds are small that anyone who was actually there will be reading this, but if you have been to this store, I would love to hear about it.  Feel free to comment in either English or German.
Related posts