Starbucks history – A discussion of Circadia
Melody, November 26, 2010
25
5 min

read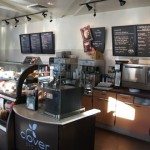 Recently a reader (Sebastian) sent me some photos from a Starbucks he visited in San Francisco while on vacation there.  The Starbucks itself looks like most any other Starbucks, but that store location (I'm nearly sure) has a very unique history.  I believe that store started as a Circadia, which was a short-lived experiment by Starbucks.  Though before I go any further I should clarify something:  After doing some research I agonized over whether to post this blog post at all.  I attempted to figure out for certain if this Starbucks (located at Kansas Street & 16th in San Francisco) was indeed the Circadia experiment store, and I while my research told me it was most likely the right store, I was never 100% certain.
This store's contact information is as follows:
Starbucks
350 Rhode Island St
btw 16th & 17th St
San Francisco, CA 94103
(415) 864-6383
I owe a huge debt of gratitude to two people who helped me put together this blog post. Sebastian, a twitter friend, mailed me the photographs which are attached.  Also, my friend "@enotsd" (also a twitter friend) did an enormous amount of leg work helping me with research on the Circadia experiment.  Thank you both.
And now for a little Circadia history – A full service Starbucks-like establishment, branded as Circadia:
In 1997, Starbucks partnered with a food service start up, Circadia Flatbread Oven, to open Circadia branded cafes serving Starbucks coffee, and operating like a full-service coffeehouse. See Puget Sound Business Journal, October 11, 2002.  The experiment lasted for about two years, with one store in downtown Seattle, and the other in San Francisco. Id.  An additional Circadia location apparently later opened in Palo Alto during this time frame. USA Today, September 17, 1999, Final Edition.  The Circadia in San Francisco was described as being 3,100 square feet, and graced with antique furnishings, red velvet curtains, and well-worn couches.  In addition, Circadia had a full breakfast, lunch and dinner menu, a liquor bar, and live music. Entrepreneur Magazine, June 1, 1999.  Customers could sip a mocha or a martini, and there was no apparent branding of the Starbucks name.  Id.
One aspect of Circadia that was different than Starbucks was the strict line between what could be "cooked" in a store.  Starbucks maintains the view that food odors could compromise venerable coffee beans.  "Starbucks says it wouldn't dream of installing kitchens in the coffee bars. 'We're never going to cook anything in an existing Starbucks – – never,' declares Howard Schultz founder of the modern Starbucks chain and its exacting chairman and chief executive."  Wall Street Journal, March 16, 1999.
Circadia had 18 internet connections, laptop rentals, a computer kiosk and a ten-person conference room equipped with a large screen computer for presentations.  The meeting room rented for $50 an hour, and a laptop rented for 90 minutes was $9.50. San Francisco Chronicle, February 4, 1999.  Circadia's sandwiches, like eggplant caponata, averaged about $6.50 and fancy desserts like white chocolate blueberry tart were around $5.00.  Id.
***
The above paints a picture of what the Circadia chain was like.  It sounds a bit like Olive Way meets 15th Avenue Coffee and Tea.  An off-shoot of those two stores blended together sounds a bit like Circadia.
The downtown Seattle Circadia store opened July 19, 1997 and was located at the corner of 4th and Seneca (now a beautiful and excellent Starbucks). (See Puget Sound Business Journal, July 11, 1997).
The photos below, from October 2010, show the current state of the Starbucks at 16th and Kansas Street, in San Francisco, which is now a neighborhood store with a Clover coffee brewer.
As always, I hope you enjoyed your Starbucks history lesson!  Tell me what you think!
(Last but not least, I realize that this above blog article wouldn't pass a law school "Blue Book" proof-read, but this blog is just my hobby, and eats up all my free time.  It's not a law journal.)
MAJOR EDIT November 27, 2010: PLEASE READ!
I should have trusted my gut that said the 16th and Kansas wasn't the right store!!! Ugh! I had asked a couple of people and I remember being told that was the right store, but once I saw even a few exterior photos, I thought 'that can't be right'.
One major plus of having numerous readers and twitter followers is that if I make a mistake, it won't be long before someone tells me I am wrong.  I appreciate that. It is NOT my goal to haphazardly throw content up and then walk away from it. I want to get it right.  For this blog post, please know that you are essentially reading two unrelated blog articles merged as one.  Since the store on 16th & Kansas was not the Circadia store, it could have just been its own blog post.
Essentially, the content about the Circadia history is correct, and I've got some nice photos, but the two things don't tie together! Hahaha! Well, if you want to see a store that definitely was a Circadia, go back and re-read my blog article about the Fourth and Seneca Starbucks in downtown Seattle.
A long term San Francisco resident, and a twitter follower @KarlSF tells me that the Starbucks that was the Circadia was at Mariposa and Bryant Streets in San Francisco.  That would have been Starbucks store number 6605 – This store.
I write this edit with great apologies to my readers!  If you want to go back and look at the Fourth and Seneca Starbucks in Seattle, which definitely was a Circadia in 1997, that blog post is here.
I am not going to withdraw or depublish this blog article: It is still interesting. I like the photos and the history of Circadia is interesting!  I might have to soon take a drive (or flight) to San Francisco quickly and pop into the Starbucks on Mariposa and Bryant.  I can't not do a blog post on it, and it is definitely on my short list of stores to get to now.
Related posts