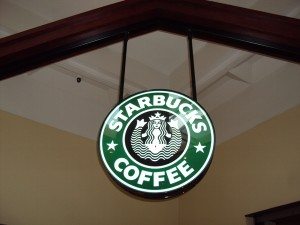 Once again it's time to look at the Starbucks Siren which is green and has a navel and two full tails!  Last year I wrote a blog article about Starbucks stores that still have signage displaying the Starbucks logo from 1987 to 1992. That is, by far, the most rare logo to find in a Starbucks. By the way, the logo is not a "mermaid".  It is a "siren".  Only a few stores still have any kind of artifact displaying this old logo.  The first blog post on this topic is here:
Shortly after I wrote that blog post (now 13 months ago) a regular reader ("Rachel") sent me an email suggesting locations in Pierce and Kitsap counties where I might find this particular old Siren. I don't know if she is still reading this blog, but thank you again for the help.  After some intense driving around trying to find these special stores, we now have this blog entry here, about a year late in the making!
***
I was on a mission to visit these four Starbucks based on the email tip:
Tacoma Mall Starbucks (Store 337)  (Pierce County)
4502 South Steele Street
Tacoma, WA  98409
Poulsbo Starbucks (Store 335)  (Kitsap County)
19673 – 7th Avenue NE
Poulsbo, WA 98370
Bridgeport Way Starbucks – Tacoma (Store 342) (Pierce County)
3830 Bridgeport Way
Tacoma, WA 98466
Southcenter Starbucks (Store 331) (King County)
333 Strander Blvd.
Tukwilla, WA 98188
Just so you know, all four of the above Starbucks are cafe only.  None of them have a Clover brewer.  The only one of the four above Starbucks offering the Reserve line of coffees was the Poulsbo location.  I have finally made it to all four stores, and this is my report:
Tacoma Mall Starbucks: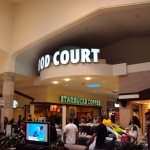 I went to the Tacoma Mall Starbucks on November 26, 2010, which was the day after Thanksgiving.  The store was insanely busy.  Perhaps, in hindsight, visiting this store on the busiest shopping day of the year was not the best move.  The line never died down.  The store appeared to have 3 store partners working at all times.  Despite this, the partners appeared to be friendly and genuinely were taking the day in stride.  I got Christmas Blend in a for-here cup and it was hot and delicious.  I talked to the shift supervisor working because her store had the finest old logo I'd ever seen (the store has a huge sign right in front with the Siren on it, which I nearly missed because the line was blocking it!).  She was tickled pink that her store had such a unique artifact to show off.  Much to my surprise, the shift supervisor wanted to take a picture of me in front of the large exterior sign.  Against my better judgment, I've included it here for all of you to gawk at!  I definitely had fun at this visit!
The Poulsbo Starbucks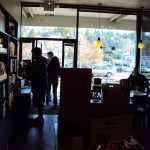 Today (Saturday December 4, 2010) I got on the Edmonds – Kingston Ferry and took a trip to Poulsbo, arriving at the store before noon after a few wrong turns.  Poulsbo is not conveniently located to Seattle.  Too much water lies between Seattle and Poulsbo.  I arrived hungry, and ordered a tall Christmas Blend in a for-here cup, and an oatmeal too.  I knew when I got there that this was at least a partially wasted trip.  I looked around and immediately realized that the store has no old logo.  It's a normal Starbucks.  This store has forever lost their classic 1987-to-1992 Siren. A partner at the store remembered it fondly and told me that it hung outside as an exterior sign. He said that it cracked recently and had to be removed and that someone from "facilities" came by, and took it away, and it's been gone 7 months, and cannot be replaced.
This store gets a big A+ for customer service.  I was a little grouchy because I was hungry, and immediately disappointed that there was no old logo in sight, and had traveled by ferry to get to this remote Starbucks (the ferry ticket was nearly $12.00).  Despite my slight grouchiness, every single partner was full of smiles and truly affable and genuine.  I talked to a barista while she was working in the lobby, and she was a black apron and commented that right now her favorite coffee is Christmas Blend.  The barista on the bar recognized my name, and when I mentioned the blog he said something to the effect, "oh yeah I heard about the Trenta cup from your blog!"
There are two photos below, one of which was taken by Winter some time ago and is from his starbuckseverywhere.net blog.  (Photo used by permission).  You can look at the two photos side by side and see that the old logo, memorialized in Winter's picture, is gone and replaced by a modern logo.
I am mildly annoyed with some random person at "facilities" for taking down the old logo. 😉  Surely we all feel like we're a little cracked sometimes.  I want my cracked logo back!
The Tacoma Starbucks on Bridgeport Way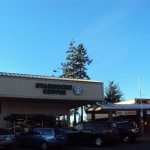 Today from Poulsbo I drove south on Highway 16, over the Tacoma Narrows Bridge, and into Tacoma, looking for the next antique Siren.  My instructions from Rachel on this store were to look for a clock.   This store was packed.  The line never died down.  Most of the time there were only two partners on the floor, one at the register and the other on bar.  They never came out from behind the bar during the twenty minutes or so I stayed in the store.  I took my pictures but at no point did I identify who I was.  It's not that I didn't want to, but the store just appeared too busy for small talk.  I arrived at roughly around two in the afternoon, and I ordered a Chicken Panini and a for-here cup of Christmas Blend.  The coffee was hot and delicious and ready to go.  I took my photos, ate my food, browsed on the Starbucks wifi, and then left for the drive north back home to King County.  I did indeed find the clock, and drooled over its beauty. It's a precious antique.  While at the register I did ask a partner if she knew how old the store was, and she said she thought it was about 25 years old.  (That sounds about right to me).
Southcenter Starbucks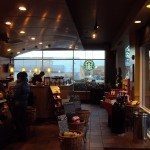 Finally, after visiting the Tacoma Starbucks on Bridgeport Way, I got on I-5 north and headed in the direction of home.  On the way, right off of the freeway, I stopped at the Starbucks at 333 Strander Blvd., which is very close to the Southcenter Mall.   The store was very busy.  I suspect Christmas shopping at the nearby mall had some spillover effect on how busy this store was.  I grabbed a hummus plate and asked for a tall Christmas Blend (I forgot to ask for it in for-here ware).  The register partner prepared a "pour over" which was ready in literally like two minutes because I did not wait for it at all.  She somehow did a super fast pour over, and then rang me up for it, and the hummus plate.  I did finally remember to ask for separate transactions (I forget to do that often since my mind is on twenty things at once all related to Starbucks) and she happily did so.  The pour over was definitely weak, but drinkable.
I stayed a while, glad to no longer be driving, and chatted with the bar barista a bit.  Really, it was very little chatting because I could see that at all times he had a line of cups about five or six deep.  The store was friendly, and the experience was fine.  I particularly liked the inside of this store.  I really like the old coffee stamp images used as wall art, and this store had a ton of those types of pieces hanging on the wall.  I took a picture of the Yergacheffe which is a great image because although it is not currently offered in the United States, this image with the goat on it IS the coffee stamp currently used in Europe for their Yirgacheffe coffee offering.  (International Starbucks markets often have different core and seasonal coffees than the U.S.)
So the between the two "My Siren 1987 to 1992" blog posts we have found the old logo in use at the following stores:
Columbia Center Starbucks (Store 101)
Lynnwood Square Starbucks (Store 350)
Bellevue – Crossroads Starbucks (Store 340)
Tacoma Mall (Store 337)
Tacoma – Bridgeport Way (Store 342)
Southcenter Starbucks (Store 331)
If anyone finds the old 1987-to-1992 logo in use in their local store, please drop me a line and let me know!  I have heard a rumor that there might be one of these old logos somewhere in Vancouver, Canada, but I don't really know.  This logo is always green with two full tails and still has a belly button.  And if you are reading this and work for Starbucks in store design or in "facilities" then Melody's request to you is that you please do NOT just rip these amazing antique pieces down from the store!  Please leave them up!  Starbucks' history is important.  Well, I realize store design and facilities will just do what they do.  Such is life.
Whew.  This ended up being longer than I expected.  Now it's your turn…
Related posts