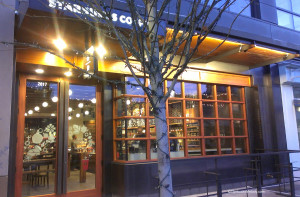 Today marks the grand opening of the third Starbucks in Seattle's University Village shopping area.  It opened at 6:00 this morning – I arrived at about 7:00 and took all of these photos.  I want to tell you that this store has it all:  This a Clover – Reserve Starbucks location; This is slated to be an "Evenings" store (meaning beer and wine will be available, and more food options) in December; This store has the new Google WiFi available.  And, it's gorgeous.
I took a series of photos, and I hope you'll simply click onto the photos, linger, enjoy, gasp, and think it's gorgeous too.  The store is designed with a large front seating area, a small side area with a map of the coffee growing belt, and a backroom of seating with two circular tables.  The intent is that the backroom would also be perfect for coffee education events or a meeting space, as well as simply adding to the store's seating.  When you look at the map of the coffee growing belt, one thing that might not be obvious is that it is literally made out of sample cups.  The sample cups have small plastic bottom (think of a thumbtack) with either a green or a brown bottom.  The green bottomed cups represent the coffee growing belt, which is the latitudes between the Tropic of Cancer and the Tropic of Capricorn.  The mirrors hanging above the menu boards make the store feel very spacious.  As I understand it, they are old mirrors that came out of a bar.
I know it's a little confusing that the University Village shopping area has three company-operated Starbucks, and one licensed store, all within a fairly small space.  This newest store is located along the South edge of University Village, where there recently was an newly-constructed parking garage.  The address and phone are as follows: Starbucks store #20088, 2623 NE University Village Street, Seattle, WA 98105, (206) 523 1718.
Take a look at this brand new store  (I included a screenshot from my phone to show that Google WiFi is available):
(The other company-operated Starbucks stores are the tiny store at the North end of the shopping area; and the large iconic store that has been at University Village since 1972.)
What do you think?
Related posts