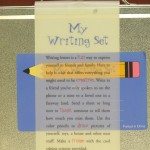 This children's writing activity lunch box sold in the 1990s at Starbucks, and it is a unique gem.  Only the packaging ribbon around it gives away that it was once a Starbucks item.  My understanding is that this item dates from some time between 1993 and 1998.  As you may recall, I previously wrote about a trip to a former partner's home and buying some small items from her:  This children's writing box and a previous blog post on Starbucks paperclips came from the former partner's home.
This writing set comes in a silver metal lunchbox-style box with a red plastic handle.  The contents inside include stickers, note paper, envelopes, colored pencils, a punch, and scissors.  Unfortunately, there is no price tag on this item, so I don't know how much it originally sold for.
I actually don't have much to say about this item, but I enjoy showing off interesting merchandise items that one might have found in a Starbucks of yester-year.  Today's Starbucks looks really bare of merchandise, so a walk through merchandise memory lane is a kick in the pants.  On this blog we've mentioned that at one time or another, a customer could buy merchandise items like the following:
There have been tons of other merchandise items at Starbucks, but above are a few of the items this blog has talked about.  Enjoy this unique retail item!  This is an open thread.  Feel free to talk about anything Starbucks related.
(Thank you Molly at Seattle Custom Framing for her assistance with the photographs.)
Related posts