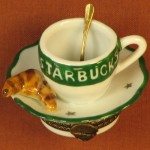 In the 1990s, Starbucks had several styles of Limoges boxes produced for them and sold in their stores.  Limoges is not actually the name of a company, but rather a region in France where these porcelain boxes are produced.  I only own one of several porcelain boxes that were sold.  The bottom of these boxes it says "Peint Main," which means, "painted by hand" in French.
Some of you may remember that previously I took a trip to the home of a former partner, who was selling her 1990s era collection of Starbucks mugs, merchandise, and collectibles.  This Limoges box came from that excursion, and so it must have sold in Starbucks between 1993 and 1998, because the former partner worked during Starbucks during that era.
I don't know much about this adorable gem of an item, and I would completely invite you to tell me more.  Maybe there are even a few Limoges box collectors on this site? I've spent a lot of time recently writing store reviews, and thought we needed a change of pace with something totally different.  This is totally different than store reviews!
This is an open thread.  Feel free to talk about anything Starbucks related!  We are only one week away from the start of the 40th Anniversary festivities, including Tribute Blend.  Please weigh in if you have any scoop about special events happening for the 40th, or if you've tried Tribute Blend, or anything else about Starbucks.
(Photos of the Limoges box taken by Molly of Seattle Custom Framing)
Related posts