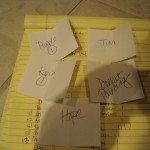 The Seattle's Best Coffee giveaway is over.  There were a grand total of 113 comments, although I did not count my own comments in the running for a prize.  I wrote 9 comments.  Nob wrote 3 comments that did not count (not in the US).  That meant that 101 entries went into the hat for a prize.  This contest brought out a lot of new names, and there were two Amys, one Alex, and one Alexander, and two Tims, but I think I kept them all separated correctly.  It wasn't that hard. I just made a tally one by one, added it up, wrote names on little cards, and threw them in a hat.  However the hat that I picked out was too small for this giveaway.  I actually ended up using an Eddie Bauer bag.
The five winners of the "Curiosity Pack" of various coffees and iced coffees are:
Purple1
Hope
Karin
Tim (not Tim Sandor but the other Tim)
Darkkatpouncing
These five people need to contact me as soon as possible so I can figure out how to get them their prize.  If the prize has not been spoken for within 48 hours, I will draw again.  My email is Melody@StarbucksMelody.com.
There were three consolation prizes.  These three people won a $5 Starbucks gift card.  I don't have a photo of those cards but they were the following people:
Tim Sandor
BCav
CamSpi
I've already given all of you my email address, but once again, please claim your prize by emailing me at Melody@StarbucksMelody.com.
And this is it.  My last blog post for a full week.  I leave you with some suggestions/ideas for reading older blog posts, some of which are perhaps under-viewed blog articles:
The Tweet Up Event at the Headquarters – Photos from the Starbucks monthly roasting event are always fun.
Deconstructing the Starbucks experience into three pieces – Feel free to disagree with me, but I identify three components to the successful "Starbucks experience."
Fourteen Starbucks t-shirts tell their stories – This is a treasure of a blog post.  I am forever in debt to the partner who, quite out of the blue, sent me her collection of promo t-shirts.
Starbucks tests "Refreshers" in San Diego – It looks like these are not going to ever launch, but they were so delicious! Quite an innovation to use green, unroasted coffee, in a tea-like beverage.
HAPPY VALENTINE'S DAY!
Related posts