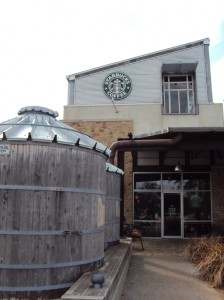 This is a store review of the Starbucks located at 9600 Escarpment Blvd., Building F, in Austin, Texas.  I am intentionally posting this store in sequence with the previous store review about the LEED Certified Starbucks in Austin.
The two stores tell stories of ownership lessons.  In the LEED Certified Starbucks, I never found the home owners.
In this store, we went in and learned that there were brand new owners.  And they love their new home.
***
This store visit was "scheduled," meaning that the store was provided details about my arrival well in advance of my actual arrival.  At one point, about six days before I arrived in Texas, I emailed a contact person, providing him my itinerary for store touring.  I stuck to that itinerary, and the only spontaneous store reviews were the Starbucks in Bedford, plus a forthcoming licensed store review.  I feel that if I notify someone that I am coming, it won't be a surprise to the store partners when someone arrives and is suddenly taking photos of their wall art.  I feel it is courteous to let the stores know in advance that they'll be featured in a blog article.
Each "scheduled "store was selected for some unique design element in the store.  This Starbucks at 9600 Escarpment Boulevard is amazing.  It is a two story store.  It has both a busy cafe and drive-thru.  Although not a LEED Certified Starbucks, the roof of the awning over the drive-thru has solar panels on it, collecting sun energy.  The store entrance is flanked by two large rain water collection barrels.  The rain water helps to irrigate the roof top garden.
The pictures tell the story of this store.
We arrived exactly on time, and we were greeted by both a bar and register barista.  Both smiled, and said hello, and were friendly and welcoming.  Coincidentally, both were named Stacy!
My friend ("John Doe") and I ordered Trenta iced teas, and we headed upstairs.  We sat in two comfy chairs facing the roof top deck, which probably is more interesting to look at in spring or summer.  We sat chatting away for about forty minutes.   Twice we saw one of the two Stacys run upstairs and check for cleanliness.
On her last trip up (round three of her running up the stairs), we stopped her and talked to her.  We commented at how diligently she was checking the lobby.  Stacy (who in conversation we learned is the ASM) stated that she was a believer in lobby slides, and pointed out the timer she was wearing on her green apron.  Before that point, I hadn't noticed it.
We tried to ask a few questions about the store, but she didn't know a whole lot about its unique design features.  I learned that she had only just become an ASM, and that she had transferred to this store just six or seven  days before our store visit.  We made small talk for a few minutes, and she mentioned that she was expecting my arrival.  But she added something really great, "but if you're really on your game, it won't matter when you are coming in to the store."  That is a top-shelf answer.  By the way, I want to point out that this store did nothing extra such as a coffee tasting, or sampling because we were coming. Rather, the store was really "on its game."  The lobby was clean.  The partners were friendly.  The drinks were perfect.
Stacy is an inspired new home owner, ready to make it the perfect third place.
We asked about the store manager, who apparently is new too, and wasn't in that day.
I am intentionally posting these two store reviews back to back because they are contrasting stories of ownership. The LEED Starbucks in Austin, Texas simply had absent owners when we came by.  I have no idea how that store normally appears or engages customers.  The two-story Starbucks in Austin had brand new owners who wanted to move in, and make it their own, and turn it into a welcoming third place!
The Starbucks on Escarpment Boulevard gets a big two thumbs up!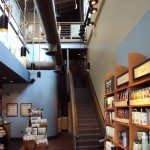 Related posts