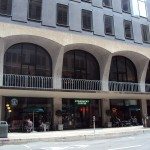 It's never a bad time to feature a Starbucks with a Clover brewer.  As I write this blog post, there are roughly about 140 Clover brewers in Starbucks stores across the United States, and a few in Canada too.  Given that there are something like 16,000 Starbucks stores world wide, that makes the 140 stores – designated to have a Clover coffee brewer and sell the full line of Reserve coffee – very special stores.  I hope I don't sound caustic saying this, but I really hope that every single one of those 140 stores appreciate and cherish what they have because I'm quite certain that hundreds, if not thousands, of company-operated Starbucks stores are a little jealous of them!
Once upon a time, I tried to catalog every single Starbucks with a Clover.  I came up with this blog post here:
Where are all the Clover Starbucks stores
That list is not complete, but if you send me an email with an address of a missing Clover Starbucks, I'll add it to the list.
This Starbucks at 295 California is in a business district, so the customer base appears to be professionals mostly.  Sitting watching customers come and go reminded me a bit of being in the Columbia Tower Starbucks.  It looked like it had an extremely similar group of regulars:  Mostly people taking a coffee break from a busy work day and very few families, teens, or children.
I tried to stay long enough at this Starbucks to get a few good photos without too many customers in the photos.  That wasn't easy to do because the store definitely stayed busy the entire time that I was there.  The line was steady.  The store manager (Paula) had heard that I would be coming, and welcomed me to show off her store, and offered to do a tasting of a coffee with me.  I picked the Reserve Papua New Guinea Arokara.  Paula paired this with the petite salted caramel square.  This was a fantastic pairing.  The salt and richer caramel notes evened out and were highlighted with the Papua New Guinea.  By the way, I've actually had the petite salted caramel square paired with a couple of different coffees, and I think that that petite is amazingly versatile.  The nutty aspect of the salted caramel square works well with a lighter-bodied Latin American coffee.  Paula was working on her coffee passport, and I had forgotten mine so she ran and grabbed an extra from the back for me!  That was totally nice of her to do!  Thank you for the coffee tasting Paula!
If you are planning a visit to this coffee-passionate store, here is the address:
Starbucks store 10251
(California & Battery)
295 California Street
San Francisco, California 94111
(415) 986 2349
If you are in San Francisco, drop by this store for a Clover cup of coffee!  I took the photos below during my visit on March 16, 2011.  This store is open Monday through Saturday and closed on Sundays.
This is the last of three blog articles about Starbucks stores in San Francisco.  I have to say that my trip was a success, despite that I was there for such a short time.  Here are the other two blog posts:  (1) Memoirs of a 19 year-old Starbucks at 1899 Union Street and (2)  the tiny Starbucks on Grant Avenue.
It's been a long while since I've mentioned this, but one of my very earliest blog articles on this site was the extremely early Starbucks venture into using a Clover brewer.  The marketing was for "fresh pressed" coffee without the word "Clover" on it, and had very coffee romantic-themed menus which had a nearly poetic paragraph that began, "If beans could speak…"  That blog post is here:  The very earliest Starbucks Clover experience:  If beans could speak and the story of the black & tan.
For those who don't remember the early 2008, "Fresh Pressed" marketing, here's the "If beans could speak …" prose:
"If beans could speak, they'd reveal the secret of their fuller flavor in this outstandingly smooth cup.  They'd tempt with the nuances of a fine wine, and whisper comparisons to their favorite chocolates and spices.  But the beans only speak through the palate.  So best to taste a pressed coffee yourself.  And have your own silent conversation with the beans."
Enjoy the photos!
Related posts