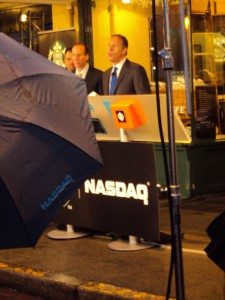 Starbucks CEO Howard Schultz kicked off the company's 40th Anniversary festivities by ringing the NASDAQ opening bell this morning from Seattle's Pike Place Market.  This was staged immediately outside the first Starbucks store at 1912 Pike Place, on this rainy morning.  I got up early and headed down to the market to check out the events, arriving at about 5:45 am.  It was still dark out, rainy, cold, and surprisingly, numerous Starbucks partners were already there.  I hung out with partners, chatting with them, and following them around in almost a lemming-like daze.  We drank Tribute Blend coffee, and tried to stay dry.
The only official notice of this event that I saw was this blurb from Globalnewswire.com.  Finally it was time for the ringing of the bell, which happened at 6:30 a.m. P.S.T.  Just before the bell was rung, a NASDAQ executive spoke, followed by a few remarks by Howard Schultz.  He spoke about April being a month with a community service emphasis, and he radiated how proud he was of the company, and its partners.
I tried to take a few pictures of the morning's events but I ended up with a whole slew of unusually bad pictures: too blurry, catching people at the wrong moment, and so on.  I'm sorry there are not more attached to this blog post.  Also the First and Pike Starbucks store (that is the store right at the entrance of the Market, which opened March 13, 2009) looked gorgeous with new merchandise and coffee mugs, and so I took a few pictures of that beautiful store to show it off.  The mix of photos below include (1)  the events at 1912 Pike Place Starbucks for the ringing of the NASDAQ opening bell, (2)  the Market, and (3) a few pictures of the 1st and Pike Starbucks. I apologize that they're in no particular order below, but I think my readers can tell which photos are which.
This morning it was great to see so many friendly faces again.  Thank you to so many people.  There were a number of partners who were very warm and welcoming to me this early morning, and I owe them all a big thank you.  And thanks for the many cups of great coffee: I really needed it!
All of the photos below were taken today, March 8, 2011, between about 5:40 am and 7:00 am.
Related posts