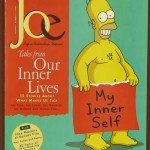 Here is the second of the Starbucks-produced Joe Magazine which dates from 1999.  Homer Simpson is on the cover.  Take a good look at the Homer Simpson cartoon on page 46!  There is even a small Mother's Day mention, and so  I decided I should publish this blog post on Mother's Day.
If you are reading this and you are not familiar with some of the history behind this Starbucks-produced magazine, I highly recommend that you go back and read the Joe Magazine #1 episode article.  I'm not going to repeat that whole blog post here, rather I'm just going to share a few selected pages of Joe Magazine #2.
I owe a huge thank you to a blog reader in Arizona who mailed this to me.  I am stunned at what good luck it is to find Joe #2.  He discovered that this Joe Magazine had been sitting in his garage for almost twelve years, and offered to mail it to me.  Thank you so much!  And thank you to Molly at Seattle Custom Framing for helping me out with the photos.
Related posts