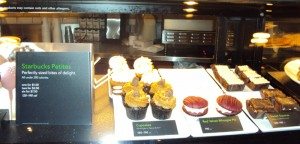 Starbucks has launched the "petite treats" which are eight small-sized desserts, each one under 200 calories.  These new food treats launched on March 8, 2011, and coming soon there is a chance to get a free petite treat with the purchase of any handcrafted beverage.  From March 10, 2011 through March 12, 2011, come into any Starbucks between two and five p.m., and you can get a free "petite treat" with the purchase of any handcrafted beverage.  My experience from past promotions is that "handcrafted" beverage is usually interpreted to mean a wide variety of things including tea-lemonades, Frappuccinos, Vivannos, lattes, and just about anything at all that you can imagine.  I don't know how broadly "handcrafted beverage" is being defined for this current promotion.
There are eight petite treats, as I previously mentioned.  Some of you might remember, the launch of these new cute little desserts has its roots in a test that was recently conducted in Arizona, called the "mini treat test."  The test in Arizona involved more than eight little treats, but today (March 8, 2011) there were eight treats that launched.  The eight treats are as follows:
Red Velvet Whoopie Pie
Lemon Square
Rocky Road Cake Pop
Birthday Cake Pop
Salted Caramel Square
Tiramisu Cake Pop
Carrot Cake Mini Cupcake
Chocolate Cupcake with Peanut Butter Frosting
I wanted to write a review of each of these little treats so I bought one of each today and attempted to eat all of them.  This is not a good idea.  Eating all eight at once is not advisable!   It might be delightful to have one or two at a time but eight at once will put you into a sugar coma.  I went to the Starbucks at 7th and Pike in downtown Seattle, and attempted to eat all eight while chatting with the store manager, Adam.  It was interesting talking to him, and it reminded me how totally subjective this is.  Taste is subjective.
I said to Adam, "I really like the lemon square – I like lemon."
He replied, "Really? I don't like lemon at all as a flavor.  I really liked the birthday cake pop!"
I looked at him dumbfounded and said, "Really? Oh my gosh that was the one I liked the least.  How about the salted caramel square?  That was good."
And then Adam said, "I don't like caramel."
When I was done talking to Adam I realized we had exact opposite views of which treats we liked the best.  Just goes to show you, there is something for everyone!  By the way, the carrot cake cupcake was delicious and the frosting on it was delectable!  That might be my all-time favorite of all of them.
I mentioned a promotion for a free mini with the purchase of any handcrafted beverage.  There is more information here on that:
Join Us For Tribute Days – From the Starbucks blogs
Please weigh in and tell me if you like these little treats!
(I feel like I have a million things to write about right now because I still need to do an entire post on Tribute Blend.  I guess I'll get to that eventually.)
Related posts