Chips, Crisps and a big Starbucks/ La Boulange Potato Chips Conversation.
Melody, July 27, 2014
6
2 min

read
Currently, as part of the lunch food test happening right now in select locations, some Starbucks stores offer a new kind of potato chips. A La Boulange version of potato chips is available in the lunch test locations.
Just as a reminder, the current nationally-offered potato chips at Starbucks comes in two flavors: Smokey Sweet Barbecue and Perfectly Salted. Usually, you'll find these two flavors of chips in a  basket, somewhere close to the pastry case: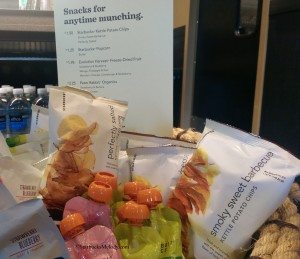 Phoenix, Arizona Starbucks offer three flavors of La Boulange potato chips. (1) Cracked Pepper Popped Potato Crisps, (2) Smoked Barbecue Potato Chips and (3) Sea Salt Potato Chips: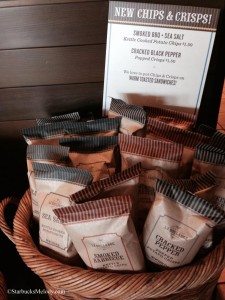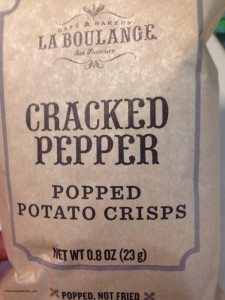 I've heard it said that the standard potato chips (the first photo in this article) sell quite well at Starbucks. It's interesting that they're testing revamping them. The test locations which offer the three La Boulange flavors, do not offer the Starbucks popcorn.
I myself have a weakness for a great potato chip. I've heard it said that potato chips are a platform to put salt and butter into your body, but every now and then, I'll gladly indulge in that. Interestingly, when I visited the Palo Alto La Boulange Cafe store in May this year, I only saw these "Provencal" potato chips available.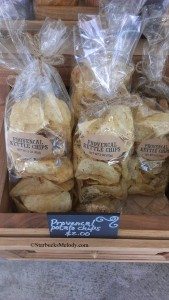 The Provencal La Boulange Potato Chips were delicious. They were very much a classic potato chip – they tasted fried, with a light dusting of salt. I noticed that they weren't too heavily salted.
Do you have a favorite potato chips? Some people take their potato chips very seriously! Have you tried any of these in this article? Which was your favorite?
Feel free to discuss any Starbucks food-related topic in this thread.
Related posts