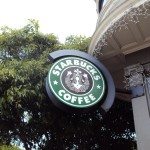 Located on the corner of Laguna Street and Union Street in San Francisco, in a beautiful neighborhood, yet with busy streets, stands a nineteen year-old Starbucks.  The doors were first opened to the public on March 6, 1992, and the very first store manager of this iconic location was then-Starbucks partner, Gina Marino.  The exterior logo signage gracing this building is still my beautiful Siren dating from the 1987 to 1992 era of Starbucks.  After Starbucks went public, in June 1992, the logo went through a major revision, with the lower half of our Siren being amputated off, no longer showing two full tails and a belly button.
I have been on an adventure to find every Starbucks store that has some vestige of this 1987 to 1992 era logo.  This blog post is the third in that series.  Here are the other two:
This store has been calling my name.  I realized that if I didn't run and see it soon, I might never see its old 1987  to 1992 era logo.  As you may recall, on January 5, 2011, Starbucks announced a new logo.  (I wrote a second blog post about the January 5, 2011 event at the SSC, which includes a very short audio segment of Howard Schultz.)  At some point, we will see Starbucks pulling down the old 1992 to 2011 versions of the logo and replacing them with the newest logo.  I assume these beautiful 1987-1992 logo historic artifacts, from a Starbucks history long gone by, will eventually come down too.  I didn't want to wait to see this gorgeous store, so I hopped on a plane to San Francisco for a day.
This store radiated that it has stories to tell.  I got very lucky on this trip.  Inside the store, I met a partner named Kristina who is still acquainted with this store's very first store manager!  Through Kristina, I learned the exact opening date of this store which Kristina confirmed with Gina!  The current store manager is a 15-year partner named Anastasia.  I had such a great time talking with her.  We chatted for a long time about what coffees we loved.  She described herself as currently being "on a Gold Coast kick" which is a phenomena that I understand.  We paired Tribute Blend with pumpkin spice loaf and chatted in a small group.  Much to my surprise, as we socialized I realized we had a favorite barista in common.  She had worked with a partner named "Pat" who had moved from downtown Seattle and ended up in this store on Union Street.  I knew exactly who she was talking about.  I remember Pat.  He was a partner at the Columbia Tower Starbucks, and then I remember that he left there to move to San Francisco.  It's a small world!
At the end of the visit, Anastasia told me that she had heard this Starbucks had been the model for some collectible model.  I think (though not 100% positive) that she is referring to the beautiful 1990s-era Starbucks partnership with Department 56.  There are so many beautiful details to this store, and I can see how it fits (with a lot of creative license taken, since it doesn't snow in San Francisco) the 1990s-era "Snow Village" collectible produced by Department 56.  (If anyone knows exactly the right information here, please weigh in!).  Sorry but I don't have a photograph of the Starbucks Department 56 collectible to share.
Notice the big green Starbucks Coffee lettering inside the store on the upper ledge.  Notice the beautiful lights.  Apparently the lights were uniquely designed for this store to give it a warm and inviting feeling.  As Anastasia pointed out the gorgeous details of the store to me, she didn't miss saying hello to regulars coming in, greeting them and welcoming them.  She described that she fell in love with this store long before she was the store manager.  She first saw it during a holiday season with store bedecked in lights on and twinkling, and the inside full of sparkle.
I have to confess that I took far fewer photos of this store than I wanted to.  It was packed the entire time I was there.
If you want to visit this store, here's the address:
Starbucks Store #509
1899 Union Street
San Francisco, California
(415) 921 4049
So all in all, it was an amazing visit to this Starbucks.  I'm passing on to you the little bit of this store's history that I gathered today.  Hope you enjoyed it.
On the flight back to Seattle, I finally began really reading the book Tribal Knowledge written by John Moore, and in it I found a quote that spoke to me.  This little passage below is borrowed from Tribal Knowledge (which I highly recommend for anyone who wants to understand Starbucks at its best.  And please consider using my little Amazon.com widget in the right column to order it.  In a small way, you can support this blog.)
Jim Donald, current CEO, and Howard Schultz were chatting just before going onstage at the 2004 shareholders meeting when Howard remarked to Jim that he couldn't believe Starbucks was about to open its 9,000th location.  Jim replied by saying, "Howard we haven't opened 9,000 locations.  We've opened one store, 9,000 times.
I don't want to open up a debate that has anything to do with Howard Schultz or Jim Donald, but rather note that if every Starbucks store got to tell its story, we'd see a lot of common themes, common friends, and shared favorite coffee offerings.
(I took all of the photos below during my store visit to the Starbucks at 1899 Union Street on March 16, 2011.)
(Edit: Sorry for the late edit. I just went back and looked at the 1992 annual Starbucks shareholder report.  At the end of fiscal 1992, Starbucks had 154 stores.  During fiscal 1992, Starbucks opened 53 new stores.  So these very old stores (which still have the old pre-1992 logo change) are definitely one of the first 154 stores within the corporation, and very likely may be one of the first 101.)
Related posts