Audio clip of Starbucks ceo Howard Schultz
Melody, April 15, 2011
15
6 min

read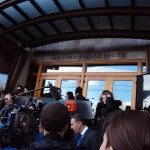 Here's another chance to listen to an audio clip of  Howard Schultz (ceo of Starbucks) speaking.  I recorded this segment on March 8, 2011, here in Seattle, at an event on the parking lot just outside the Starbucks headquarters.  Here's my transcription:
The last three years we've done something historic.  We have transformed the entire company, and we've done it in a way that not only transforms the financial position of the company, but most importantly, we preserved and we enhanced the culture, the values, and  the guiding principles of our company.  And for that, we should all be extraordinarily proud but we should we recognize as leaders our responsibility.  There are 17,000 Starbucks stores in 55 countries serving 60 million customers a week.  We're 200,000 partners strong.  The leaders of the company and everyone who is here needs to understand the collective and the individuality responsibility that we have together to 200,000 people and their families who are relying on us to continue to build Starbucks the right way.  When I returned in 2008, I apologized for the mistakes that we made.  Nobody was to blame.  But I made a promise, that with your help, together, we would turn the company around.  And when were together in New Orleans, I asked everyone to understand what it would mean to personally become  more accountable and  responsible for our actions, and not to be a bystander.  Howard Schultz did not turn Starbucks around.  You did:  Our partners in the field did, our partners in Europe, and in Asia, and in Latin America.  We are now at the cusp, the precipice, of doing something that no-one believed we could do.  And I strongly believe, not because of the growth of the company, but because of its humanity, that our best days are ahead of us.  The next forty days will evolve in many different ways but the most important thing we need to do as partners is to maintain, enhance, protect, and preserve the culture and values of the company.  If we do that we will take care of our customers and the financials will take care of itself.  And my promise to you is that I will never ask anything of you that I am not asking of myself.  Happy anniversary Starbucks!
***The background and story***
Allow me to provide a little background and context to this audio recording.  As many remember, March 8, 2011 was the "kick off" day of the celebrations for Starbucks' 40th anniversary.  On that day, I got up early and walked down to Pike Place Market to watch Howard Schultz ring the opening NASDAQ bell.  I took some photos and produced a blog article from that very early morning event:
After the events at the Market were over (see above blog article), I walked up to the Starbucks on the corner of First and Pike and tried a couple of the new petite treats which were also launched on March 8th.  I had a short break in the day before a few afternoon events, and so I went home and worked on the blog.
On the same day, March 8th, I went to the Starbucks headquarters roughly around the lunch-hour time frame.  I had arranged to meet an SSC partner and go shopping at the new partner store.  I love to buy lots of pens!  When I am at work, I always know which pens are mine because I am the only one with Starbucks-logoed pens!  Strictly speaking, I didn't need an SSC partner to escort me on the visit to the partner store.   Nonetheless, I was glad to meet up with a friendly face, and under the circumstances of the events going on that day, I felt like I needed a host.  Eventually, I wrote a blog article about the newly-relocated and redesigned partner store:
Finally, after the shopping excursion at the partner store, I went outside for an afternoon event.  Howard Schultz and the leadership team were on a stage at the entrance of the corporate headquarters building, and partners filled the entrance and parking lot area in front of the steps leading up to the main building entrance.  Technically this event was open to the public since it was outside the headquarters.  However I am nearly sure it was 99% partners.  I think that there were a couple of news journalists there too.
On the exterior of the Starbucks headquarters building, immediately above the main entrance, hangs the Starbucks logo.  On March 8, 2011, this large exterior logo was covered by a massive black drape: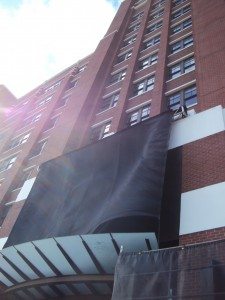 Immediately below that black drape and awning was the stage area where Howard and other leadership team members spoke.  The recording that is inserted in this blog is from Howard Schultz speaking that afternoon, standing below that awning, addressing the crowd.  Unfortunately, the Starbucks headquarters is fairly close to some active railroad tracks.  A train was obviously going by as Howard spoke.  I asked Kelly Lawson, who helps me with this blog, to clean up the audio but unfortunately we couldn't erase the sound of a train nearly drowning out Howard.  Howard may be dynamic, but when it comes to sound volume, the train wins.
One of the very coolest things that happened during this event was that Howard Schultz invited certain partners in the audience to come on stage:  He specifically called out and commended all partners who have more than 20 years of service to Starbucks.  Twenty years is a long time with one employer and I felt proud for them too!  There must have been at least twenty or more partners who came on the stage.  I stood at a funny angle to the event, so my apologies that these photos are not better.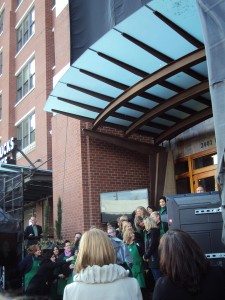 That afternoon Howard rang the closing NASDAQ bell, spoke at length, and then the drape was removed from the logo over the headquarter's main entrance:
After the formal portion of the events ended, I tried to work my way toward the main stage to get a few pictures of what had been set up there.  As I mentioned before, I didn't stand at a great angle to cover this event.  In the two photographs below there are a couple of things to notice.  First off, you can see the NASDAQ bell equipment immediately behind Howard.  In one of the two photos (see the photo labeled "2585 Just after the event Howard walking off…), I notice that some person is holding up a paper cut out, injecting it into the photo.  It just looks kind of funny, and honestly it gives me a chuckle, but to tell the truth, I don't know what was going on there at all.  I have no explanation why in one of the two photos you see an arm holding a paper cut out figure.
That's all there is to tell!  This blog article is a little longer than I wanted it to be!  But now you have some audio of Howard Schultz, and you have the background story telling the circumstances of this public speaking address.  By the way, Howard definitely spoke more than just the two minutes in this audio segment, but I only recorded a very small piece of his presentation.
Please feel free to leave a comment!
Related posts