The Latest Starbucks Reserve Coffee: Burundi Ngozi
Melody, May 23, 2013
14
4 min

read
Starbucks Burundi Ngozi Reserve coffee is here!  I have been to two coffee seminars for this new Reserve offering:
May 18, 2013 – 7th and Pike Starbucks: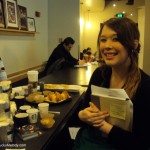 On May 18 , 2013, I went to a coffee tasting lead by Coffee-Master-In-Training Amber, at the 7th and Pike Starbucks.  There were about five people in attendance (and one of them was another customer who just happened to be curious and wanted to jump in).
The Burundi coffee is an African, wash-processed coffee.  I think Starbucks is classifying this coffee as a medium coffee, but it's a pretty light and mild coffee to me.  It has a light body in the mouth, and a clean taste.  The aroma has some blackberry notes in it.  As to the flavor of the coffee, two of our group commented on it having a little bit of a honey flavor.  The thing to know about this coffee is that it has remarkably pronounced black tea flavors to it.  There is very little roastiness or roast profile to it, and there's a lot of origin flavors.
One thing we did was tried the Burundi side by side with brewed Tazo Awake tea.  This was ingenuous.  The Burundi almost seemed a little astringent side by side with Awake.  I recommend giving this a try for a really interesting coffee tasting experience.  You can really see how Burundi has overlapping flavors with black tea.
We also tried this coffee with a cinnamon chip scone.  I think the scone was supposed to bring out complex cinnamony flavors to the coffee, but to be honest, I thought the scone was a little too over-powering for this coffee.
Burundi is definitely something that is rare and exotic for coffee connoisseurs.  Actually, this is exactly what the Reserve program hopes to do: give customers a chance to try the rare and exotic coffees!
Here are just a few more photos:
May 20, 2013 – East Olive Way Starbucks: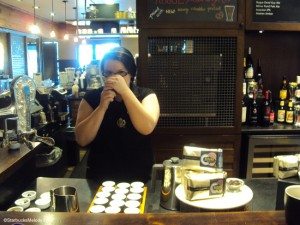 I went to a second coffee event for Burundi, held at the East Olive Way Starbucks.  Coffee-Master-In-Training Danielle walked us through this event.  It was very interesting to try this coffee both Clover brewed, and made via a French press.  I often underestimate the powerful difference brew method makes to how a coffee will taste.  The Burundi is much spicier and fuller when made with a French press.
We paired the Burundi with the Salted Chocolate Almond bites at Starbucks, and immediately, several people commented that the "salty" aspect of the chocolate bite brought out the "chai" notes of the coffee.  I thought that the rich chocolate gave this coffee a little bit of creaminess to it.  It still had a fairly clean finish, even when made on a press.  One person commented that she really tastes the Burundi in the middle of her mouth.  (One of the four steps of a coffee tasting is to "locate."  It's one step that sometimes gets overlooked, but this is good coffee to keep "locate" in mind, as you try it.  Just as a reminder:  1) Smell 2) Slurp 3) Locate and 4) Describe.)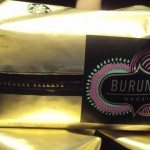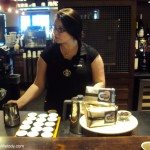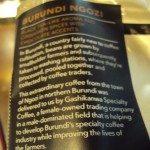 If you get the chance, pick up a bag and carefully read the side of the packaging for the Burundi.  It's very rare for an African coffee to come from a female-dominated and operated coffee farms.  Burundi tends to have very small farms, and then farmers bring their coffee cherries to central washing stations organized by coffee trading groups.
This coffee comes to you from a coffee trader named Marie-Chantel Nicahoruru, who coordinates the washing stations, facilitates best coffee growing practices, and operates as the primary coffee trader for about 2,000 very small coffee farms, many of which are indeed owned and operated by women.  Marie's business operations in Burundi are remarkably unique as coffee farming in Africa is strongly a male-dominated business.
Try pairing this coffee with cinnamon, baking spices, and black tea flavors.  This can also complement chocolate, as we experienced with the chocolate covered almonds.
Enjoy your coffee, from Marie's table to yours …
***
If you enjoy reading about coffee tastings, I recommend that scroll through the Coffee Tastings category on this site.
Lastly, if you enjoyed this article, please click the "like" button which is at the very bottom of this article (and every article).
Related posts