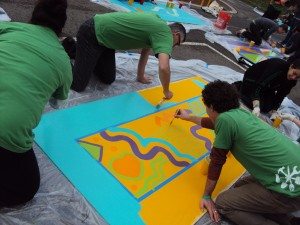 What happens when around 600 Starbucks partners and numerous customers work together? Community service.  Today (April 30, 2011) was the big marquee community service event in Seattle.  As part of Starbucks dedication to community service, this month there have been large marquee events all over the world.  Of course I signed up for the one in Seattle.  These events have been open to both customers and partners.
Today's event began with registration at John Muir Elementary School at 3301 South Horton Street, in Seattle.  Registration was from 8:00 to 9:00 a.m.  Initially I was going to be carpooling with one other person, but unfortunately my friend awoke feeling under the weather, so arrived alone, though scheduled to meet up with several other people.  I ran on time, and on the way into the event I dropped by a Starbucks on Rainier Avenue South for a smoothie.  This store (Starbucks store #3302) has the most unique exterior signage and it seemed really appropriate to share a photo of it with you – the message captures the spirit of today's community service:
"Life's most persistent and urgent question is 'What are you doing for others?'" – Martin Luther King Jr.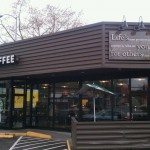 I arrived at the event on time, and easily found the registration area.  I immediately ran into a partner named Taigan.   I've known Taigan for five years.  He's been a store manager in downtown Seattle at two different stores, both close to my work, and he's someone that I've always respected, liked, and really connected with.  He was a group leader for one of the community service projects, and carrying a sign that identified that he was with project "14."  I decided then and there that I was going to sign up for project 14, no matter what it involved doing.  Later I learned that groups 14, 15, and 16 were all one big project involving painting panels, and other painting in the playground at John Muir Elementary.
Before the event, I ran into many familiar faces from the downtown Seattle corridor, including the store manager of the First and Pike Starbucks (Josh), a partner named Kris, and an ASM named Katie.  And I ran into Chad, the store manager of the first Starbucks at 1912 Pike Place.  I easily found the group of partners from Texas and Canada whom I was scheduled to meet with.  It's always wonderful to catch up with friendly people.
After registration, the large group of more than 600 people piled into an auditorium.  There were presentations by Cliff Burrows (President of Starbucks North America), the mayor of Seattle (Mayor McGinn), and a representative from Hands On Network.  There was also a really cool wall where you could show your enthusiasm and spirit for community service by putting your hand print on the wall.
Project 14 was a painting project (as I mentioned), and coincidentally the friends whom I was meeting up with wanted also to do the painting projects.  Meanwhile, large numbers of others went off to cut back blackberry bushes from nearby Mount Baker park, and lots of community improvement projects.  Since I was with the painting group, that's all I'll really be writing about here.
Josh (the store manager of First and Pike), a barista named Meghan, and two customers had a task to paint a mural to improve one of the walls in the John Muir Elementary playground.  Take a look at the before and after!
There were a very large number of thick wood panels that needed to be painted with creative designs on them.  My understanding is that later the panels will be mounted on display at Fairmount Park Elementary School in West Seattle as part of improving their playground.  I didn't know that this project required some creativity!  I painted a wood panel today!  It's amazing all the beautiful painting done by partners and customers today.  Lucky for us, the weather cooperated and it was clear and sunny and a perfect spring day!  I ended up with a little purple paint on my jeans but it was well worth it.  I saw lots of people with little spots of paints on their clothes, on their hands, and even in the hair.  Here is an array of photos of the panels being painted and partners showing off their talents:
One small group had the task of painting the United States on the playground (it was pre-stenciled in).  I love what they did!  Take a look!'
If you're following the Five Awesome Baristas Youtube channel, you can see that they've already uploaded a short video clip from this event!
Starbucks is encouraging all kinds of community service with their partnership with Hands on Network, and these big events have been all over the world!  This event in Seattle was the end of the big events, but hopefully I have a few readers who attended some of the other large events who can tell me what it was like.  As always, I can't wait for all your great comments! 🙂
Edit on May 8, 2011 – I added some more photos I had, just for fun:
Related posts