I'm enjoying a free petite treat from Starbucks courtesy of My Starbucks Rewards!  For those who don't know, if you use a registered Starbucks card to pay for purchases at Starbucks, you can earn "rewards" which sometimes will include random coupons being mailed to you.  I enjoy the random coupons because they're such a nice surprise!  In the past, Starbucks has mailed out a coupon for a free holiday treat, a free tall Frappuccino, free oatmeal, and there was a coupon for 15% off merchandise also.
If you are reading this, and you have questions about My Starbucks Rewards, I would be glad to try and answer them.  Just post in the comments!  Keep in mind that I am only writing about the United States version of My Starbucks Rewards.  There are Starbucks rewards programs in the UK and in China, but the program details are different than the image listed below.  This blog article does >not< pertain to the international versions of My Starbucks Rewards.
Did you get your coupon for a free petite treat, and if you did which treat did you get?
In other news, today marks the launch of the Mocha Coconut Frappuccino at Starbucks!   It's been missing from U.S. stores for years (though has been available in Hawaii for a long time).  Almost exactly one year ago, I was writing on this blog about the Mocha Coconut Frappuccino because it seemed like it was time for it to come back.  It's back!
The other great thing that has returned starting today is the Three Region Blend coffee.  Let me know what you think of it!
Talk about this or anything else that is Starbucks-related!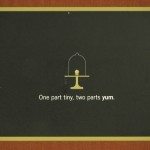 Related posts