Highlighting neighborhood stores: Starbucks store 11156, Lakewood, Washington
Melody, May 25, 2011
15
3 min

read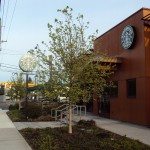 This week we're talking a little bit about your local neighborhood Starbucks stores.  A few days ago, I mentioned the Seattle store in the Wedgewood neighborhood.  Today I want to focus in on a Starbucks in Lakewood, Washington (very near Tacoma).  I rarely get down that way but on May 13, 2011, I had work-related reasons to be in the area of the Lakewood-Steilacoom Starbucks so I dropped by.  Here is the address:
Starbucks store 11156
8223 Steilacoom Boulevard
Lakewood, WA
(253) 588 0194
I arrived at about 7:30 in the morning, having scheduled plenty of time to sit at the Starbucks and check it out, and still get to my meeting on time.  I hadn't even ordered yet, and I noticed that the store has a cozy little corner with comfy seats, so I took a photo of it: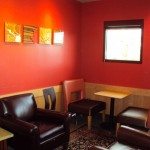 Immediately after I took that picture, I heard a partner from behind the counter yell out, "Ma'am you can't take pictures in the store."  I have to admit that a part of me just chuckled inside.  I didn't feel like I had any vested interest in whether I wrote about this store for my blog since I really was on my way to a meeting, so I was exceedingly calm when I replied, "Huh. When I have checked with partners at  the SSC that's not what I've been told."  I have no idea what the partners were thinking, but there was kind of a genuine look of surprise on all their faces.  Katie, who I later learned is the store manager, apologized for the confusion and invited me to continue taking photographs.
For those who haven't seen it, here's the blog post on photography inside a Starbucks store – I highly recommend it:
Clearing up confusion surrounding the Starbucks photo policy (which was changed in late 2009)
Once at the register, I ordered a tall Three Region Blend in a for-here mug and an oatmeal.  I asked the partners to pre-warm the ceramic mug:  they obliged.  As a customer, I miss seeing the ceramic mugs atop the La Marzocco getting pre-warmed from the heat of the espresso machine.  Now, pre-warming is often by request;  thankfully every partner I've ever met has gladly done this, and many partners automatically let the cup sit for a minute with hot water first.
My coffee and oatmeal were perfect.
I learned from store-manager-Katie that this store opened brand new on August 6, 2008.  Katie had started out as a shift supervisor at this store and had been its grand opening.  She moved around to a couple of different stores, and then ended up back at this store later as the store manager.  The store is a cafe only store, and is not a Reserve or Clover Starbucks.  She definitely sounded passionate about Starbucks and was very interested when I told her about the blog.
I didn't take all that many pictures, though I've uploaded enough that you can see it's a nice little store.  These little stores, which are still the majority of Starbucks locations, are great little breaks for people like me passing by, and can be great little community beacons for regulars who love "their Starbucks."  By the way, Winter, who is a guy on a journey to visit every Starbucks in the world, has a nice photo of this store from a different angle than mine below: click here.
I very rarely write about Starbucks stores  in Pierce County, and I think the last time I did was when I wrote episode #2 of "My Siren 1987 – 1992," which is the second in a  series of three blog articles about finding the 1987 to 1992 logo still in use at Starbucks stores.  (Episode #3 involves a 19-year old Starbucks store in San Francisco.)
Here are the photos from today's visit that I took early morning May 13, 2011:
Related posts