Planning now for holiday merchandise at Starbucks. (Open thread)
Melody, June 24, 2011
47
3 min

read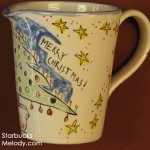 As a tradition, I normally write at least one off-season post about Christmas merchandise at Starbucks.  My theory is that the merchandisers have to plan well in advance for the holiday season of each year, so it makes sense to start talking about it very early.  In fact, I don't remember where, but I've heard that Christmas merchandise planning at Starbucks begins 18 months in advance of when it actually is launched in the stores.  Christmas 2012 is about 18 months from now,  and so now is the time to talk about it.
This blog post features 1990s-era pottery.  It's remarkable pottery.  It looks like the emphasis was on the quality of the pottery, and not Starbucks as a brand.  The actual Starbucks logo is nowhere to be found on these items.  These are fairly heavy pieces, and handmade in Italy!  I also think that the number of pieces that go together is larger than what we typically see in a Starbucks now.  What I mean by that is that these days one cannot purchase a whole set of coordinating items at Starbucks: mugs, plates, saucers, and pitcher.  The pitcher is large and would be perfect for your favorite eggnog recipe!  I can't imagine seeing all those pieces in a store now.
By the way, the 1990s to early 2000s was definitely the era of an amazing amount of Starbucks merchandise offered in stores.  The variety and ingenuity of merchandise from that era is stunning.  I can only assume that since Starbucks at some point began to act as if they had the Midas touch: since everything they touched turned to gold, they began to touch everything.  And with that came an explosion of merchandise launched in stores.  Why not offer a Starbucks Limoges Box, paperclips, an amazing assortment of mugs, a Valentine's Day stationary box, a snow globe, a children's writing box,  and who knows, maybe a blender too while we're at it?  The plus side of that 1990s-era attitude is that Starbucks was really brave and bold in the kinds of merchandise they offered.  Now, Starbucks is pretty timid in their merchandise launches.  Not much of it, and very little that is completely unexpected.  I have heard that their merchandise sold well for the most part, although the hand-made Italian pottery actually did not sell that well.  People don't walk into Starbucks looking for very expensive pottery sets for their home.
This is an OPEN THREAD!  Feel free to talk about anything related to Starbucks!  Take it away and comment on anything under the sun related to Starbucks!
And here are past blog articles related to Christmas:
What Christmas merchandise do you want to see this year? (The off-season Christmas merchandise blog post from one year ago).
1991 Starbucks Christmas Blend Coffee advertisement. (This is just a really interesting looks at print ad that Starbucks ran in 1991).
(Thank you Molly at Seattle Custom Framing for taking all these great pictures.)
Related posts