This year (on July 5, 2011) will be the second annual Starbucks volunteer event to clean up Gas Works Park in Seattle. As most Seattleites know, every July 4th, thousands of people crowd into Gas Works Park in Seattle for a good a view of fireworks over Lake Union. And on July 5th, they've left a bit of a mess. Starbucks is looking for help for the clean up day. Go to the official Starbucks link about this event here:
http://www.starbucks.com/responsibility/community/community-service/seattle-july-5
They sent an email which looked like this: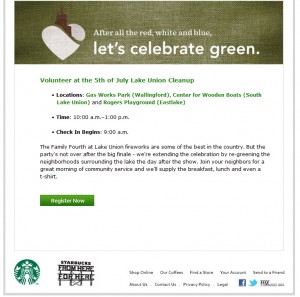 As is tradition, there should be a t-shirt for the event too. Last year, the t-shirt was heather gray and looked like this:
By the way, I didn't go volunteer last year in the clean up, but I wish that I had.  I am trying to take some time off  so that I can help out, but it's a Tuesday, and I don't know yet if I can attend.  The t-shirt in this blog post was a gift from a partner at the Holman Road Starbucks in Seattle.  I don't visit that store very often, and I have no idea the name of the partner who gave it to me.  I was just dropping by, and I was standing at the drink pick up area and started to make small talk with the barista at the Mastrena, as I waited for my beverage.  It was fairly late in the day, and I recall that it was quiet.  I told the barista that I had a blog about Starbucks, and he seemed genuinely interested.  He asked me what sort of things I write about.  The visit to Holman Road Starbucks was shortly after this blog article here:
Fourteen T-shirts Tell Their Stories
And so I mentioned that I had just written a blog post about Starbucks t-shirts.  This barista at the Mastrena said, 'Oh I have an extra t-shirt in the back you might like.'  He was so amazing! In a flash he came back with this 2010 Gas Works clean up t-shirt, and he gave it to me!  I was so flattered.  Thank you Holman Road Starbucks.
So I wish everyone lots of fun and good weather for the clean up on July 5, 2011.  Come volunteer!
Related posts