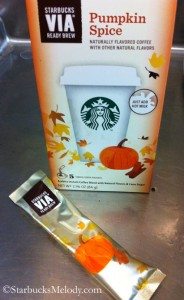 This will fly off the shelves at Starbucks.  The seasonal favorite Pumpkin Spice returns soon – and will be available as a Via Ready Brew too.  No need for special coupons – it will fly off the shelves.  That's about all I've got to say about that.
Thank you so much to the partner who emailed me this.
Pumpkin Spice Latte returns to Starbucks on September 4, 2012.  Pumpkin Spice Via Ready Brew launches as a new product joining the Via Ready Brew lineup this September 4th.
September 4th will be a big day!  Please check back in and let me know how you like it.  And what's your favorite Pumpkin Spice beverage?
Edit on September 1, 2012:
I tried this at home this morning.  I only used about 8 ounces of milk, as recommended in the instructions.  I nuked 2% milk to about a drinking temperature – I carefully watched /monitored it because I don't want my milk to boil, and I don't like drinks too hot.  And then I just added the Via and stirred.  Delicious! I really do like this! I will stock up on Tuesday.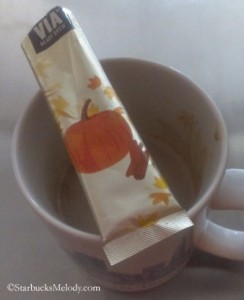 Related posts