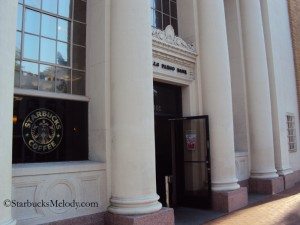 On August 28, 2011, I dropped by this Starbucks in "Old Town" Orange, near the Orange Circle.  It's an area that I know well.  I lived in this neighborhood once upon a time, long before "Starbucks" was a part of my vocabulary.  There is a historic bank building on Chapman Avenue that now houses a Wells Fargo.  This unique building has a Starbucks inside.  It feels like you're going into a Wells Fargo Bank, but really, you will find a Starbucks there.
I had a nice visit one morning, and chatted with a barista named Courtney, and indulged in Refreshers because I could.  I took a number of photos.  The building dates from the very early 20th century, so it has high ceilings with an ornate design, and large columns, and it's a very spacious store too.  Thankfully, Courtney appeared to be well aware of the current Starbucks photo policy.
I've been in this area many times, and I recall on New Year's Day, 2009, dropping by the store in hopes of finding it open.  I was home visiting my mom, and decided to go visit this store, but alas it was closed New Year's Day.  I took most of the pictures in this article on August 28, 2011, but a couple of them date from January 1, 2009.
The address of this store is as follows:
Starbucks store #5511
101 East Chapman Avenue
Orange, California
(714) 628 9622
A little history of the building and banking in Orange:  The plaque on the exterior of the bank states that it incorporated in 1906 as First National Bank of Orange.  At some point, the bank expanded with branches in Anaheim and other nearby cities, and it became the First National Bank of Orange County.  The date on the plaque is from 1976.  My mother recalls that that was about when it turned into a Wells Fargo, so I assume that Wells Fargo commissioned the plaque to commemorate the history of their unique building.  My mom has lived in Orange for more than fifty years, and according to her, the principal investors in First National Bank of Orange went on to form another bank which was simply called "Orange National Bank"  (formed in 1979).  Per my mom, they opened their first doors a few doors down from the Wells Fargo and continued to grow.    In 1999, "Orange National Bank" was taken over by Citizen's Bank.  The same principal investors in Orange National Bank went on to form Orange Community Bank following that takeover.  One news article dated July 2000, (buried deep on the second page and only a brief mention) notes that Larry Sallinger, former president of Orange National Bank, then formed Orange Community Bank.  The Orange Community Bank website states that it is now Grandpoint Bank.  I found a LA Times blog post, dated March 2011, indicating that Grandpoint Capital purchased Orange Community Bank for $30 million.  Of course none of this has anything to do with Starbucks, but I thought it was an interesting banking history.  And it appears that there is no more local banking in Orange.
If you like reading about Starbucks in California, I've written a ton of  articles about stores in California.  I think it is possible that I've covered the same number of Washington State stores as California stores!  I wrote about a small store in Laguna Niguel, a small Starbucks on the corner of Meats and Tustin in Orange, California, a store in Dana Point, a Clover Starbucks in Irvine, a review of a Starbucks in San Francisco that first opened in March 1992, and a Clover Starbucks on Alhambra in Sacramento.  There have been a few others too.
Anyway, it's such a beautiful store that I just wanted to share a few photos:
Related posts