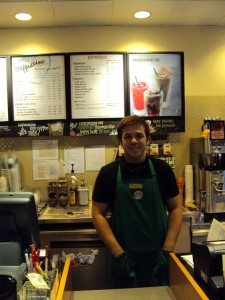 Recently I took a quick trip to Sacramento and I decided that while I was there, I would use the opportunity to review a licensed location, far away from Seattle. I rarely talk about the licensed stores but they are an important part of the brand image, and since there was a huge Starbucks right in the lobby of my hotel, I am going to review it.
This Starbucks has an exterior entrance but largely connects to the lobby of the Marriott Hotel located at 11211 Pointe East Drive, Rancho Cordova, CA 95742.
The manager is Vivian and I happened to meet her at the store, as well as another barista named Brett.  I ordered a blended strawberry lemonade (it's very hot outside) and inquired about the store's participation in My Starbucks Rewards.  I learned that this licensed store accepts the Starbucks card as a form of payment, and earns you stars with each swipe however does not participate in the remainder of My Starbucks Rewards perks, such as free milk changes, free syrups and free tall beverage with a purchase of a pound of beans.
Vivian and Brett were extremely friendly, and Brett shared with me his favorite custom drink:  A blended strawberry lemonade with raspberry syrup added and whip cream blended in too! He says it tastes like a Starburst.  There was a pretty complete array of merchandise available, and standard full beverage menu too.  The store boasts a small whole bean wall.
One thing to know is that this store closes fairly early. On weekdays it closes at 4 p.m. and on weekends it closes at 1 p.m.
Would I recommend this store to a friend? Absolutely. It had extremely friendly partners, a spotless lobby, and it looks and feels much like a corporate store.  I think I got very lucky because this was a really fabulous licensed Starbucks location.  However, since this licensed store really mimics a corporate store, I think there is room for a lot of possible confusion for those customers who are used to free soy milk or free syrups.  Also, unlike many licensed stores, this Starbucks has a tip jar too.  It seems as though many of licensed locations don't have a tip jar, though I don't know if that's the norm or not, but it seems that way to me.
My trip to the Rancho-Cordova area/Sacramento produced three store reviews, and this is the first of the three.  Two more will be posted soon!
I open up the floor to anything about this store review or licensed stores generally…
Related posts