Gig Harbor Clover – Reserve Starbucks: 2 Thumbs Up.
Melody, January 13, 2014
4
1 min

read
I dropped by the Clover – Reserve Starbucks in Gig Harbor on Saturday, January 11th.  I loved it.  It is such a pretty store with a great seating.  The store has had a Clover coffee brewer for about one year, and its original grand opening was December 13, 2001!  This store has been there a long time!  (I reached out to someone above the store level and was able to obtain the original opening date of this store.)
If you want to visit, the store address is as follows:
Gig Harbor Clover Starbucks.
5151 Borgen Boulevard
Gig Harbor, Washington
(253) 851 8312
For those who don't know, a Clover brewer is a unique way to make a perfect single cup of coffee, using vacuum press technology.  There are roughly 675 Clover Starbucks stores in the United States (and Canada), and every Clover store receives special, exquisite, rare coffees from Starbucks.
I dropped by this afternoon knowing that one of my favorite partners was working.  I've known Jocelyn for about four years.  She made my Aged Sumatra! 🙂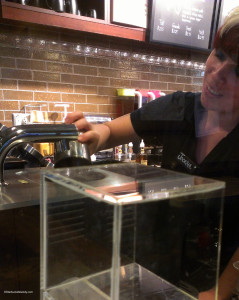 Everything about this visit was perfect.  Take a look at the great community table, and the nice seating at the wood tables.  Here are the rest of the photos.   Let me know what you think.
Related posts