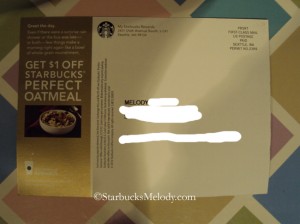 The latest My Starbucks Rewards coupon is $1 off Perfect Oatmeal (or some people got a coupon for a free oatmeal).
It feels like it has been eons since I have written about coupons that are a part of being enrolled My Starbucks Rewards.  I just got one in the mail yesterday (2/18/12), and it prompted this blog article.  As a reminder, being enrolled in My Starbucks Rewards as a "Gold" level member makes a person eligible for special coupon offers.  As I have written many times before, a customer must get a  Starbucks card, load money on it, and then register it at Starbucks.com/card.  After 3o uses of the card (must be within a year) the card is elevated to the "Gold" level of perks: This means that customers then receive free drink coupons in the mail, and a shiny gold card with his or her name on it.  You do NOT have to switch to the shiny gold card.  A customer's perk level is registered with the profile at Starbucks.com/card, not any specific card.  And when setting up your profile (or editing it), a customer must opt into the postal mailings from Starbucks otherwise he or she will not receive any of these special coupons.
I don't think this is the most recent coupon by MyStarbucks Rewards.  Last fall, when Starbucks launched the "Everything Bagel," I am sure there were coupons for a free bagel.  I saw a few people using them as I stood in line, but I didn't receive one myself.  It seems as though that every one of these coupons goes out to a pre-selected subset of the many gold card holders out there.  It's totally mysterious to me how Starbucks picks who will get what.  I only know that I haven't received all of them.  As to the oatmeal coupon, through twitter I know that some customers received a free oatmeal coupon, and some received the one dollar off coupon.
Just as a reminder, all of the above information pertains to the U.S. version of the Starbucks card rewards.  The perks aren't the same from country to country (for those countries that have launched a card loyalty program).
I remember the first generation of card perks being launched in April 2008, shortly after being announced at the March 2008 shareholders meeting.  The program has been through changes and tweaks since then.  There is a part of me that wonders if Starbucks was totally caught off guard at the explosion of people registering their cards in the four years that have flown by.  On the Investor Relations page at Starbucks.com, you can stream investor quarterly conference calls, and at the most recent quarterly call, I recall hearing that something like almost one in four transactions is with a Starbucks card.  That is a lot.  That is an astonishing number.  I suspect that there are well over a million gold card holders.  I don't know the current number, but I think I've heard that  number somewhere before.  And according to the most recent annual report, at the end of fiscal 2011, Starbucks cards had 46 million dollars loaded on them.  ("For the fiscal years ended October 2, 2011, October 3, 2010, and September 27, 2009, income recognized on unredeemed stored value card  balances was $46.9 million, $31.2 million, and $26.0 million, respectively.")   Also, in the recent 2011 annual report, it indicates that there are about 3.6 million active members of this loyalty program.  What this means is that it is a HUGE program.  And there is a huge benefit to Starbucks.  The card does create loyalty, brand awareness, drives increased store visits, and probably gives Starbucks a database to analyze too!
None of the above paragraph has anything to do with Perfect Oatmeal, but I think it is stunning how huge a program the MyStarbucksRewards program really is, and it reinforces the importance that partners know the card rewards backwards and forwards – millions of people have them.
So did you get the $1 off Oatmeal coupon?  I know I will use it.  I like the oatmeal anyways!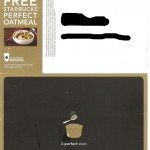 Related posts