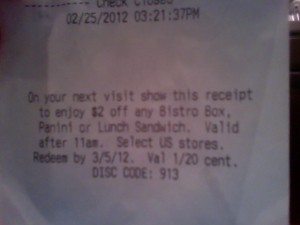 A few Starbucks regions currently have a promotion for $2.00 off a bistro box, panani, or lunch sandwich.  The way it works is that the customer has to buy something in the morning and get a receipt.  Then the customer returns to Starbucks after 11:00 a.m., with the receipt in hand, and receives $2.00 any bistro box. panini or lunch sandwich.  One interesting aspect of this, so I hear, is that the discounted lunch item does not need to be purchased on the same day as the morning purchase.  In other words, a customer could go to Starbucks in the morning, hang on to his or her receipt, and return many days later and receive the promotion on the bistro box, and specified lunch items.
From what I know, this promotion has been going on mostly in the Southern states, from Texas to Florida.  Please tell me if you've seen this promo!  It definitely does not exist here in Seattle.  Actually, I wish it existed here in Seattle!  That sounds like a good deal!
I think the purpose of this kind of promotion is to develop the kind of customer who comes to Starbucks both morning and afternoon.  Since the busiest time of the day is the morning, the afternoon daypart is where Starbucks is frequently looking for new ways to draw customers in the door.
The $2.00 off promotion is scheduled to end on March 5, 2012.  Have any of my readers been taking advantage of this promo?
Thank you to my twitter follower Joshua for emailing me that attached image, and allowing me to post it here.
I apologize that this is a very short blog article.  I am having some computer problems right now, and that may slow down how often I update this blog. 
Last but not least, please send in your entries for the chalkboard art contest – anyone can enter and there are lots of prizes!
Related posts