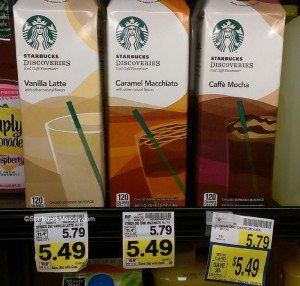 Starbucks is offering a new way for you to enjoy a Vanilla Latte, Caffe Mocha, or iced Caramel Macchiato.   In your grocery store, in cartons, is a new product called Starbucks Discoveries.  I had some difficulty finding it initially – notice that in my photo, I found it in the section with orange juice, and lemonade.  When I saw the cartons of new Starbucks Discoveries, I thought maybe it was the same item as an internationally popular Starbucks drink called Discoveries.  (I still don't know if it is the same item).  In any case, I had high hopes for this new beverage.
I bought a carton of the Vanilla Latte and Mocha, and figured that was a fair starting place to try these.
I would love to know what you think of the Discoveries.  It does have a coffee-esque flavor, but I thought it had a strange aftertaste, the Mocha version more so than Vanilla Latte.  I want badly to give these two thumbs up, but I am afraid I can't do that.  I tried the Vanilla Latte more than once, and poured over ice, and it's a little better over ice.  Of course, taste is pretty subjective so I am hoping someone in the comments will disagree with me and love this new product.  I didn't really like the aftertaste.  I don't think it tastes close to a true espresso flavor.  It's a mediocre substitute for a real Vanilla Latte or Mocha.
The Starbucks website has official nutrition information for the Discoveries.
By the way, while I was at the grocery store, I did find more of the Strawberry Lemonade Via which is delicious.  If you haven't had the chance to pick some up, and you're looking for a refreshing summer Via, this is a good one!   I still think it might be the best of the Refreshers Vias.
Have you tried the Starbucks Discoveries?
Related posts