Featured Clover Starbucks: Boston Commons, Boston, Massachusetts
Melody, April 11, 2012
18
3 min

read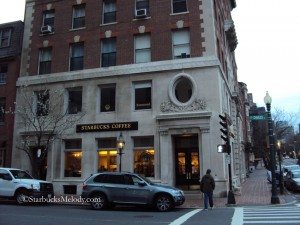 On March 28, 2012, I had a chance to visit the Starbucks at the corner of Charles and Beacon Streets, located in Boston, Massachusetts.  This store holds the distinction of being the very first Starbucks store in Massachusetts ever!  It opened brand new on April 15, 1994.
Congratulations on 18 years of being in Boston!
The store's 18th anniversary is only a matter of days away, so be sure to drop by the store and congratulate the partners for 18 years of success in Boston!
Although this is a smaller space, it's a fantastic store located nearly adjacent to the Boston Commons, on the corner of Charles Street and Beacon Street.  I met with Bethany (the district manager) and Brian (the store manager) and we talked for a bit about the unique aspects to this store.  This store was also one of the very first stores to have a Clover.  According to Brian, the store added a Clover in February 2008.  That was super early!  I know that I discovered the Clover in January 2008, and at that time there were only a handful of them in the whole company.
By the way, when I met with Brian, I was struck that I think this is the second time I've met him.  Since I have a sister living in the greater Boston area, I've taken trips out here before, and I am pretty sure that I met him on my last trip out to Boston!
Brian has been a partner since 2006.  We did an informal quick tasting of the current Starbucks Reserve offering: Nicaragua Blue Diamond, and I was impressed the Brian still had the aroma kit to use and guide us through the tasting.
(By the way, I always suggest a visit to my previous article:  Melody's top 10 coffee tasting tips.)
I have to admit that I have neglected the Nicaragua Blue Diamond in the current lineup since there is Sidamo to chose from, and a few stores still have a little Harrar left.  It was good to go through a guided tasting of the under-loved coffee!
The store has a lot of charm to it.  The chandeliers are quite elegant, and I really like the big community table which looks as if it were constructed hundreds of years ago.  I didn't manage to get a great photo of the Clover area, which I had wanted but the store very quickly filled up with customers shortly after I arrived.
Since I got there early, I ordered oatmeal for breakfast.  It was given to me in a little half-size Starbucks bag, designed just for the oatmeal.  We don't have those little bags out in Seattle, but they look like they make a lot of sense.  I would guess that it is more cost effective to use the small bags than the larger handle bags.
I hope to get back to this Starbucks soon.  Everything about it was wonderful.  It's also in an amazing historic area of Boston to explore.  My coffee was fine, the store was clean, and the partners were friendly.  I could not ask for more.
I attached a few pictures –  I wish I had taken more, but the store began to fill up with customers (as I mentioned previously).
And here's the address, if you want to visit:
Starbucks store #801
65 – 66 Beacon Street (at the corner of Beacon and Charles)
Boston, MA 02114
(617) 742 – 2664
Related posts