Featured Clover Starbucks: The Garage: Cambridge, Massachusetts
Melody, April 29, 2012
13
3 min

read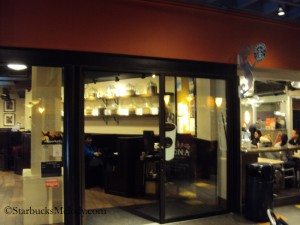 All I can say is that the Boston, Massachusetts area has a dynamic Starbucks Clover market. A number of stores in Boston (and the greater Boston area) offer the Reserve Coffee offerings and are equipped with the Clover coffee brewer. This article about "The Garage" Starbucks is the last in a series of four articles about that area. Here are the other 3 articles:
Since this was the last of my scheduled Starbucks visits, I was on my own when I went to "The Garage." The district manager did not come with me. A barista from the Harvard Yard Starbucks showed me the way, and introduced me to this store's manager, "Brandi." I loved The Garage. It was super packed the entire time I was there, so I only took a few photos. I think we arrived at about 1:00 in the afternoon, which is definitely not a slow hour for this store. Brandi was wonderful. We chatted about her Clover, and the unique large chalkboards, and she told me about her store. I was totally impressed with the hand-drawn chalk art featuring the designs of the Reserve coffees. As regular readers of this blog know, I love the in-store chalk art, and have an older article featuring quite a bit of it here. There is a small seating area directly across from the Clover (not pictured below) which is slightly on a platform. That seating area turns into the site of occasional "poetry slams."
This store has had a Clover coffee brewer for years, and it is clear that the store partners love it. There is booth seating directly across from the register area/ pastry case area, and then there is a larger table seating area with big windows looking down on the street below. Everything about the design is so very charming.
I bought a "Mallorca Sweet Bread" because I realized I'd never heard of this pastry before! It was so delicious! I wish we had these in Seattle. It's funny, but this is the only store that I noticed this pastry at. I assume it is available at the Harvard Yard stores and a number of greater Boston locations, but this was the only time I stumbled upon it. Here's what that wonderful pastry looks like: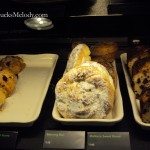 Also notice the entrance to the store: you don't see many of these old Siren logos anywhere. I always thought this was a great looking logo: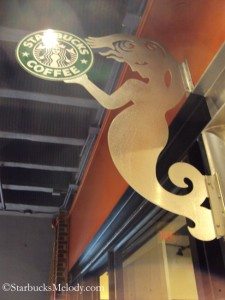 The Garage Starbucks got its name because this building it is in original was an auto garage many many years ago. I love the arched windows, and it is easy to imagine that this space was once part of a garage. Starbucks first opened this location on June 7, 1996, and here is the address:
Starbucks store #861
"The Garage"
36 JFK Street
Cambridge, Massachusetts
(617) 492 4881
Here are the rest of the photos from this visit:
Related posts
Socialize

Subscribe
Join the StarbucksMelody.com mailing list to receive a weekly email with new posts.