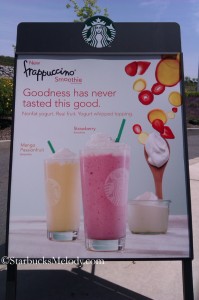 Starbucks is testing new yogurt-based beverages which are called "Frappuccino Smoothies."  One is the Mango Passionfruit Smoothie, and the other is the Strawberry Smoothie.  These are not the same smoothies that are readily available everywhere.  First off, these new drinks do not include a banana. Secondly, one of the main ingredients is a sweetened non-fat yogurt.
These smoothies are only in a small test market in California, so please do not rush to your local Starbucks thinking you will find these.  (Though I really wish I could do that!).  They sound delicious!!  I had a couple of different readers emailing me about this test, and I owe a lot of thank yous for the attached photos.
Both smoothies start with the barista pouring non-fat yogurt to the lower line of the Frappuccino measuring  cup, then adding a designated amount of the fruit compote, then ice, and then plain Frappuccino syrup base to the mix.  As is obvious, it all gets blended in the blender.  The beverage is served with a whipped yogurt topping.
Every time I write about test beverages and products, I always include the small warning that most test beverages never launch nationally, so please do not hold your breath waiting for this.
I will say, this sounds delicious.  For years, I've somewhat hoped for a yogurt-based smoothie.  Literally, the very first day this blog went live, I was writing about yogurt-based smoothies.  Here's my second blog post ever, from September 2009:  (There are now more than 475 articles on this site!)
Starbucks tests the honey vanilla Vivanno. – This honey and yogurt smoothie had a wonderful tangy-ness, a delicious flavor, and was tested in 2009.  I heard that it didn't sell well, but I thoroughly enjoyed it.
Has anyone here tried these two new test beverages?  Which one is better?  Mango Passionfruit or the Strawberry one?
I might eventually write a second blog article on this if I get the chance to try these drinks.  I just don't think I'll be able to get to this test market this summer.  I wish Starbucks would bring these drinks to me. 😉
Please weigh in!
Related posts