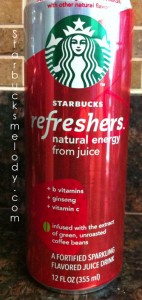 Starbucks is testing Refreshers in a can!  You may recall that I have written about Refreshers twice before on this blog:
Refreshers – Very Berry and Cool Lime flavors being tested in San Diego
Refreshers – Strawberry Citrus and Orange Mango flavors being tested in Washington State.
I really like the Refreshers.  So far, my favorite has been the Cool Lime version that was tested in San Diego in July and August of 2010.  The hallmark of the Refreshers lineup of beverages is that they include an unroasted green coffee in them.  The flavor, in my humble opinion, is a little heavier than a tea but not quite a juice-type flavor. They're light and refreshing.
It's clear that Starbucks wants to do something wonderful with this innovation.  I've heard that these beverages were also briefly tested in a small area of Chicago too, but I never had enough information to turn that into a blog post.
The new round of testing begins soon, and so here's the early look:  Arizona will be receiving a CPG version of the drink.  (CPG stands for "consumer packaged goods" and it includes beverages that are ready to drink, and could be sold in a grocery store or in the refrigerated case at a Starbucks.  The bottled Frappuccinos and canned Double Shot beverages are examples of CPG products.)  I think that only Arizona gets the canned versions.
There are three flavors scheduled to be released as canned Refreshers, however I only have the photos of the Strawberry Lemonade.  The scheduled flavors are as follows:
Strawberry Lemonade
Orange Melon
Raspberry Pomegranate
A close look at the can makes it look like the CPG version of Refreshers is a flavor similar to a version I tried in Washington: Strawberry Citrus.  The Strawberry Citrus drink that I tried previously did indeed have some lemonade-like flavor to it too, so it does sound like a similar drink to this canned "Strawberry Lemonade" Refresher.
I don't have any review of the Strawberry Lemonade canned product yet;  I only have these photos but I wanted to share them.
This won't be the last time that I write about Refreshers.  I have heard that starting on July 12, 2011, the Cool Lime flavor of Refreshers will be launching in Southern California.  I am very excited about this.  I might fly down and try the Cool Lime Refresher again.  My final thought:  I really hope the Refreshers do launch nationwide!  I'd like to see the Very Berry and Cool Lime launch! Delicious!
The pictures below come from a trusted source, so I wanted to share what the can looks like.  As I mentioned above, for sure I will be writing about Refreshers at some point again in this blog.
Please weigh in!  Have you tried these?
Related posts