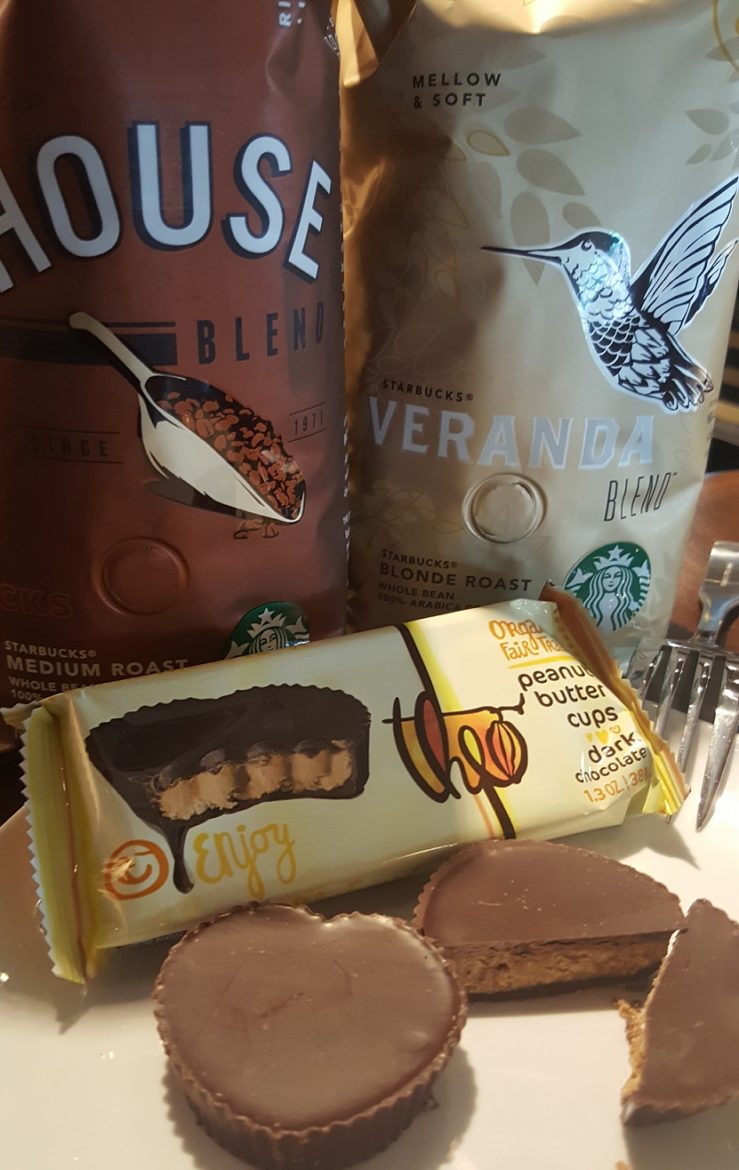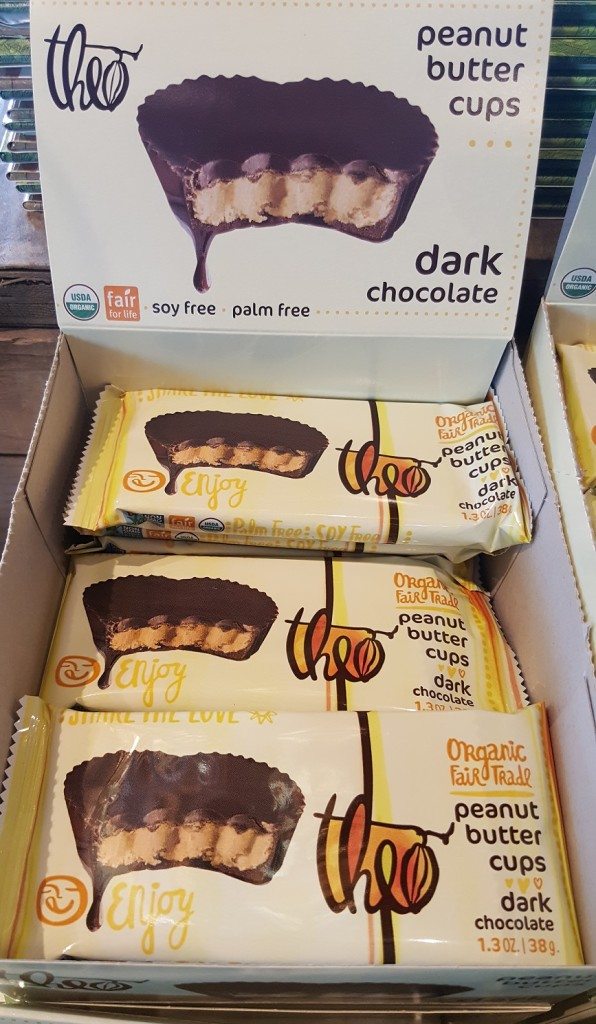 I love Theo Chocolate. They are a small Seattle chocolate company that makes beautiful organic and fair trade chocolate confections, bars, and more. They do every step of the process. Some confectionery businesses buy chocolate and then make chocolate treats. Theo does every little step. They work directly with the farmers who grow cocoa trees. They source organic and fair trade cocoa. And then they roast and make all their chocolates from the cocoa beans they've sourced.
Like all of Theo Chocolate treats and chocolate bars, the peanut butter cups are 100% fair trade and organic. These peanut butter cups are vegan and soy free also.
The Theo Peanut Butter Cups come in milk chocolate or dark chocolate.
The peanut butter inside comes from a Kingston, Washington small business called CB's Nuts. You can buy the peanut butter separately inside the Theo retail store in Seattle, and some grocery stores.
I strongly suggest you try these peanut butter cups. They're not a typical sugary treat. The peanut butter is just simple organic peanuts grounded to "creamunchy" which is between creamy and crunchy! And then it's roasted to perfection.
Here's what the jars of CB's Nut Peanut Butter look like: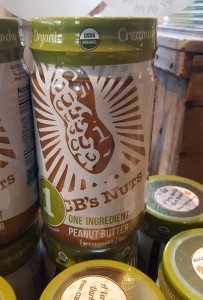 You will really taste chocolate and peanut and not a lot of sugary-sweetness. The peanut butter inside has no added sugar. The dark chocolate on the outside is 70% cocoa.
You might be wondering where to find these unique and fair trade, organic peanut butter cups. You can find them at Whole Foods and Kroger stores.
Starting July 12, 2016, you can find them at select Starbucks locations in the greater Philadelphia area and select locations in Indiana. This is a test of them to see how they sell. The Starbucks locations offer only the dark chocolate Theo peanut butter cup. Look for the milk chocolate version at other retailers, such as Whole Foods.
Dear Philadelphia and Indiana Starbucks customers, I'm counting on you to go give these a try. These are only being offered in about roughly a hundred Starbucks stores.
Here's a random sampling (in no particular order) of where you'll find the Theo Peanut Butter Cups.
In official statement from Starbucks media relations, Ms. Erin Shane told me, "We are testing Theo chocolates Peanut Butter cups in two markets (Indiana and Philadelphia) as part of our commitment to bring our customers a wide variety of innovative packaged food, snacks and treats. More information on this commitment is available in the newsroom story, Starbucks Works With Entrepreneurs to Bring Popular Local Snacks to its Stores."
I went on a quest to figure out which Starbucks coffee goes best with these peanut butter cups. I tried House Blend and Veranda Blend with them. (The coffee was Clover brewed).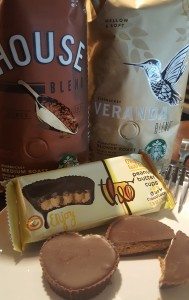 Starbucks describes House Blend as "a blend of Latin American beans" and "with tastes of nuts and cocoa brought out by the roast.
As to Veranda Blend, it's described as "subtle with delicate nuances of soft coca and lightly toasted nuts."
In this coffee tasting, I was thinking both about how the food affected the coffee as well as if the flavors of the food were enhanced by the coffee.
The House Blend did a lot more to affect the peanut notes to the chocolate bar and brought out the nuttiness in the coffee. The Veranda is very soft, and played well with all the dark chocolate and cocoa flavors, both in how it affected the coffee and the food.
For the coffee masters reading this, Theo Chocolate have a lot of possibilities for coffee tastings. Another coffee that you could try this with might be Guatemala Antigua.
I get asked fairly often about what there is to do if you're on a vacation in Seattle. Over a year ago, I wrote this article talking about how to do a Starbucks vacation in Seattle.
If you're visiting Seattle (or you just live here and want to give this a try), you can do a Theo Chocolate Factor Tour. You'll learn where cocoa trees are grown, and all about the sourcing of cocoa beans to make chocolate. Whole, unroasted coffee beans look nothing like the final delicious chocolate bars and treats: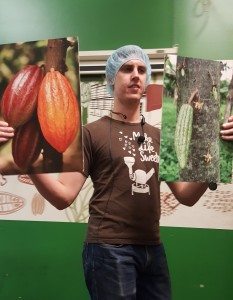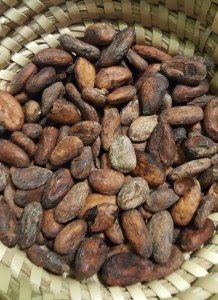 After the cocoa beans have been roasted, and ground to course fragments called "nibs" it starts to look like the chocolate we know and love:
Eventually, Theo adds sugar and vanilla (all organic) and their own magic and it gets turned into many chocolate wonderful sweets: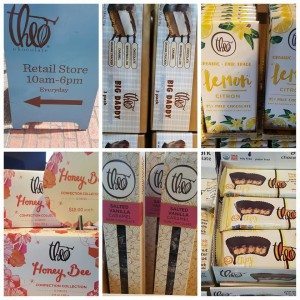 In preparation for this StarbucksMelody.com article, I ate an enormous amount of chocolate and went on the Theo Chocolate Factory tour. I recommend you do the same. Legally, I have to tell you when I receive a product, service, or item for free. Trust me, I'd drown myself in chocolate, whether or not Theo decided to gift me peanut butter cups and chocolate bars, a factory tour and whatnot. The fact that the chocolate I ate in preparation for this new story was free did not affect my love for it.
Related posts