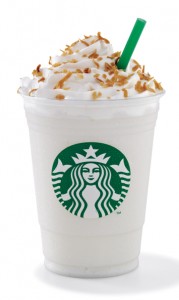 When summer comes, I start ordering a large variety of beverages at Starbucks.  I like  iced Tazo tea, iced chai, and even sometimes a Frappuccino.  Of course, I do like iced coffee too  I wondered what is your favorite non-coffee beverage at Starbucks?  There is an incredible amount of choice in drinks that don't contain coffee.  Actually, I am always a little surprised when people say to me, "I don't go to Starbucks because I don't drink coffee."
This morning (May 26, 2012) I tweeted that question, wondering what kind of answers I'd get.  What is your favorite non-coffee beverage?  Here's what a few people on twitter said:
One of my favorite non-coffee drinks is the iced soy chai latte with about an inch (or a little less) of soy foam on top of it.  It's sort of the cocoa cappuccino version of an iced chai.  I really do drink a variety of beverages but I am hooked on this one.
The partner who introduced me to the iced soy chai latte with foam was featured nearly three years ago in this blog post here!  She's  is still one very awesome partner!
Thank you to the many people who replied to me on twitter.  I was totally (and happily) overwhelmed with the number of replies that I got.  I had lots of  fun reading everyone's favorite drink!  I hope you did too – and maybe it gave you a few ideas of something new to try.
Without a doubt, if you use Twitter, I recommend that you follow everyone above!
The image of the coconut creme Frappuccino was borrowed from the Starbucks newsroom website.  Did you know that when the creme-based Frappuccino was introduced into the lineup in 2002, that the coconut flavor was one of the original flavors?
Related posts