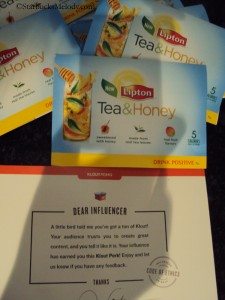 It's a lazy Saturday in Seattle for me.  I like days like these.  It got up to a scorchin' 72 degrees, which for Seattleites, that is actual heat.  Yes, I fully agree that years of living in the Pacific Northwest has turned me into a weather wussy.  It was hot enough that I thought I'd try the instant "tea and honey" that Lipton sent me as a Klout Perk.  And I realize that if you're reading this blog, you're likely surprised that I am not writing about Starbucks.  Well, this is a an extremely rare occurrence to have a blog post not about Starbucks.  I'll find some way to tie it into my beloved Siren.
For those who do not know, Klout is an online influence score, with scores ranging from zero to 100.  I've read that 20 is about average.  For a long time now, Klout has had partnerships with businesses where people who meet some standard of "influence" get free samples to try.  I think at one time even Starbucks partnered with Klout, but believe it or not, this is the first time I've ever received anything from Klout.  Lipton sent me Tea and Honey, Mango Pineapple instant tea.  Each tiny sachet makes a single serving of instant tea.  In Starbucks-speak, each sachet makes about a "grande" size glass of tea!
Honestly, I thoroughly enjoyed my instant tea.  I grabbed some cold water from the refrigerator, and stirred!  It was ready to drink.  I noticed that the mango seemed to be the most predominate flavor, and I did pick up a bit of the honey flavor too.  Two thumbs up!
Over time, I've slowly warmed up to the idea that maybe Starbucks could market some kind of instant tea.  There was a time where I would have laughed that off as a silly idea, but oddly enough, somehow, I am coming around to the idea.  Starbucks already makes a variety products, and I think the Tazo teas are wonderful, so why not?
I know there have been ideas on MyStarbucksIdea.com about instant Tazo Tea Via Ready Brew.  Here are just a few that a quick search brought up:
The Mango Pineapple tea was refreshing.  That was a fun little perk!
Okay, so what say you?  Should Starbucks start making an instant tea too?
Thank you for bearing with me as I talked about another brand!  I promise I won't do this again for a long time to come!
And because I received this product free, I have to include a disclosure statement:
I was given a free product or sample because I'm a Klout influencer. I was under no obligation to receive the sample or talk about this company. I get no additional benefits for talking about the product or company.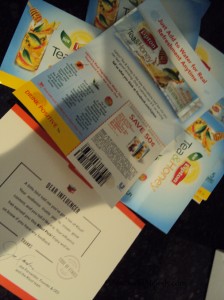 Related posts