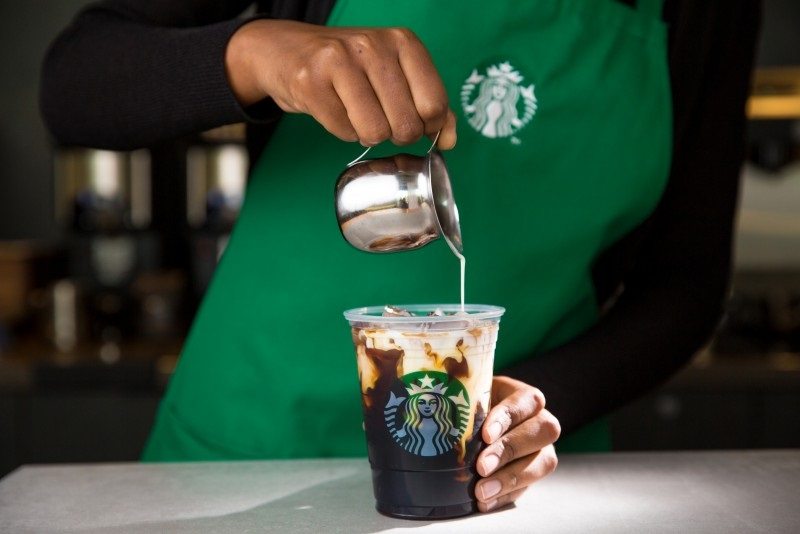 Four Cold Coffee Choices at Starbucks. Which one is right for you?
Melody, June 1, 2016
11
5 min

read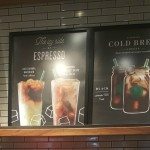 Now at Starbucks, you can choose from a number of cold coffee options. I went to a coffee tasting on Monday the 30th (at the East Olive Way Starbucks) and discovered the unique aspects of your cold coffee options. You might have to try all of them more than once to figure out which one has your name on it.
Before I go any further, thank you Ben for walking us through this cold coffee exploration!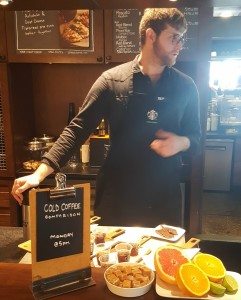 One of the things that Ben did was bring in sliced fruit and caramels to have with the tasting. The sliced fruit wasn't there for eating -rather it was there to smell. Iced coffee sometimes has a slightly softer smell or less of an aroma than hot coffee. And whether you're trying hot or cold coffee, having something to help bring out the right aroma notes of your coffee can completely enhance the experience of learning about the coffee.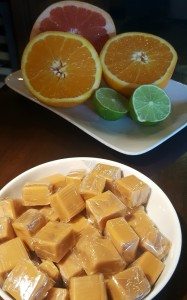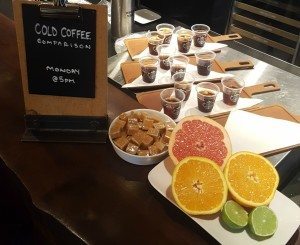 First off, every Starbucks location offers the classic  Starbucks Iced Coffee: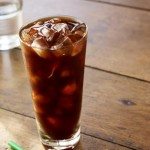 This is a delightful iced coffee. It is in fact made from Starbucks "Iced Coffee Blend," which has been available as an in-store coffee in the past. You'll find that this is slightly roasty and caramelly. A lot of people will pick up a lot of cola notes in the body of the coffee. This is a great coffee to smell an orange first before you try it to enhance citrus flavors in the aroma and the coffee itself. We paired soft caramels with the classic core Iced Coffee.
When ordering this at a Starbucks, the default is that it comes sweetened. I suggest that you try it unsweetened.
Despite the many fancy coffee options, this is one of my favorites. Unsweetened, it's very low calorie (only 5 calories in an unsweetened Grande size), refreshing, and fairly inexpensive as well.
Secondly, lots of customers are fans of the classic Starbucks Cold Brew coffee.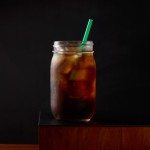 The Starbucks Cold Brew began as a test product in the summer of 2014 in Boston area stores. The current Starbucks Cold Brew officially launched everywhere March 31, 2015. It's a blend of Latin American and African Beans, formulated exactly for Starbucks stores, brewed by a no-heat immersion for 20 hours.
This coffee has a lot less caramelly notes than the standard Iced Coffee. You might find yourself noticing dark chocolate flavor notes. We did pair this coffee with a Lindt citrus dark chocolate (not shown). Some people feel like the Starbucks Cold Brew has a heavier or more intense flavor than the standard Iced Coffee.
This is a great option for someone who wants a low acidity, smooth, dark-cocoa-y cold coffee.
By the way cold brew coffee is very easy to make at home. I recently talked about making cold brew at home here. You can use a variety of coffees for cold brew too. Currently, the Starbucks Roastery is using a Colombia Santana El Bolson, which is just fabulous as a cold brew.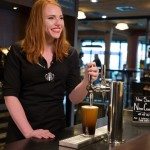 Third up, Nitro Cold Brew – this is not available at all Starbucks locations. Select stores only.
Nitro Cold Brew started out a small test in select stores only in limited locations such as Seattle and Arizona. I've been told that about 500 stores now have Nitro Cold Brew.
For Nitro Cold Brew, you take the standard cold brew as described above and use special equipment to infuse it with nitrogen. The result is a softer, maltier, deep coffee flavor. At this point all the light citrus notes disappear. It is the infusion of coffee and a beer-like drink (but to be clear, there is no beer in this! It's nitro and cold brew made by special equipment).
If you are in Seattle, you'll definitely find Nitro Cold Brew at these stores: 7th and Westlake, East Olive Way, the Seattle Reserve Roastery, and the Russell Investment Center Building Starbucks. Look for Nitro Cold Brew in 7 major cities (select stores): Chicago, Boston, Los Angeles, New York, Seattle, San Francisco and Portland.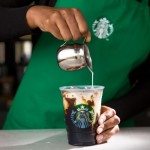 Lastly, is something very new: Cold Brew with Vanilla Sweet Cream.
This is the standard cold brew (described above in the second section) with an added vanilla sweet cream, made in house by Starbucks baristas. The vanilla sweet cream uses heavy cream, two percent milk, and vanilla syrup. This is supposed to give your cold brew a lightly sweet flavor. It may even bring out a hint of the caramelly notes.
If you want to give your coffee a lot more sweetness, this is for you.
Which one is my favorite? I personally either gravitate towards the classic ice coffee or classic cold brew. The Cold Brew with Vanilla Sweet Cream is just too sweet for me.
That's it – the 4 cold coffee options at Starbucks. Which one is your favorite?
I should mention that technically there are 2 other ways you could order a cold coffee at Starbucks:
You could order a Clover-brewed iced coffee. This is a great option!! This is available at Reserve Starbucks locations. You can search the store locator for Reserve stores. You could even try something very creative like a Coffee Shandy! Iced Kenya made via the Clover is also a go-to favorite for many customers.
Of course, you can always order an iced Americano – this would be espresso, water,  and ice.
Related posts