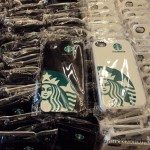 It is time for another trip to the Starbucks Coffee Gear store!  For those who don't know, this is the store (located on the 8th floor of the Starbucks headquarters) where anyone can buy fun logo merchandise.  It's open to the public.  Periodically, I drop by and check out what is new, and it has been way too long since I've written an update about it!  I stopped by today (Friday, July 13, 2012) and took a few photos of what's new at the Coffee Gear store.
If you want to visit, here is the address:
Starbucks
2401 Utah Avenue South, 8th floor
Seattle, WA 98134
The Coffee Gear store is open Monday through Friday, normal business hours.
Once inside the building, head up to the 8th floor.  You'll see the entrance to your right, as you exit the elevators: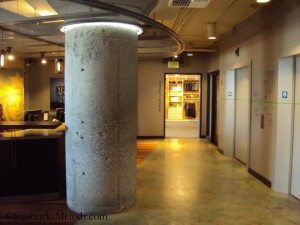 One you enter the store, it'll look like this:
John, the store manager, immediately pointed out the new iPhone Starbucks logo covers.  For a moment, I wished I had an iPhone (I have an Android phone):
There is a new washable logo tote bag: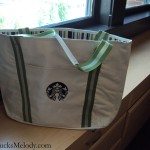 And if you're looking for a lunch tote, the pink one shown here is new: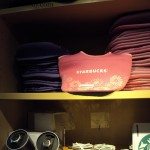 I definitely like this hoodie, even though we're in the wrong season for it: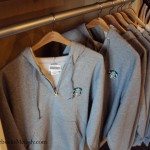 When all is said and done, one of my very favorite items is still the large, re-usable canvas Starbucks logo grocery sack.  I have a couple of them at home that I use regularly at the grocery store.  They are super sturdy, practical, and totally unique.  And keep in mind, Seattle now has a bag fee of 5 cents.  Retailers in the City of Seattle are mandated to charge customers 5 cents each time the customer receives a paper bag from that business.  (There are a limited number of exceptions).  Actually, I'm surprised that I haven't seen my neighborhood Starbucks charging the 5 cent bag tax yet, but I assume that at some point they will.  In any case, you can avoid the 5 cent bag tax by bringing in your own sack.  And this sack, found at the very bottom of this photo, really is one of my favorite items in the Coffee Gear store: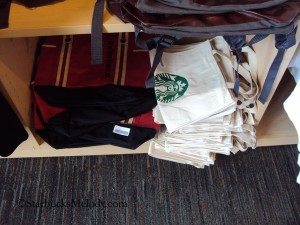 If you're visiting Seattle, this store is definitely a must-visit store!  I've written about the merchandise a number of times, and so you can see other items (some of which are still available) by looking back at some of the previous Starbucks Coffee Gear store articles:
Partners, don't forget that you can buy your polo shirts for work here, and you get your partner discount too.  Partners can shop at the Coffee Gear store online (though they only ship in the U.S., as I understand it.)
What do you want to see this store sell? I recall that briefly they had magnets inspired by the Starbucks coffee stamp designs, and I would like to see those come back.
Here are just a few more photos from today's visit to this store!
Related posts