Terry and Republican Starbucks: The photos
Melody, August 19, 2012
24
2 min

read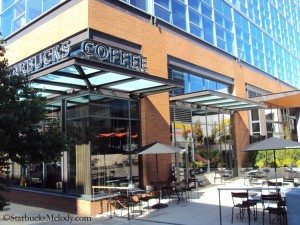 The Starbucks at the corner of Terry and Republican Streets, in the South Lake Union neighborhood of Seattle, IS an amazingly photogenic store.  It also just recently re-launched as a beer and wine (Evenings) location.  Previously, I wrote an article about the unique food items available at an Evenings Starbucks.  In addition, the Evenings Starbucks stores have Riedel wine glasses for sale, made especially for Starbucks in partnership with Riedel.
On Sunday, August 5, 2012, I dropped by this store, just because I like it so much.  Mostly, I wanted to be inside some nice air conditioning.  When I arrived, the store was only mildly busy, with a few customers milling about, purchasing beverages and food.  At one point the store emptied out.  I was surprised.  There was a small block of time where I was literally the only customer in the store.  I just had to take photos.  It's a rare opportunity for me to get a store all to myself.  There were only two partners working at that moment, and they're not in many of the photos below, so these photos oddly look like I'm in a totally empty store!
It was a very bright and sunny day too, so I love how the sunlight is pouring into the store.  I just couldn't resist the opportunity to feature this store one more time.  As a reminder, the Terry and Republican Starbucks opened brand new on January 2, 2012:
Starbucks store #15407
442 Terry Avenue North
Seattle, WA
(206) 467 4945
By the way, one of the photos below was taken on August 2, 2012:  I went to an event for the launch of new Starbucks food, and I noticed that this Starbucks had some unusual iced tea containers that day.  It seems as though on special occasions, this store uses their fancy iced tea containers!  Look for that photo below.  Also, I don't think I took a picture of just the condiment area, but the store always has real silverware available at the condiment area.  The store now has two Clover brewers, and when it first opened, there was only one Clover.
I don't know if any of my readers are following Winter's (another customer) personal adventure to visit every single Starbucks in the world, but I noticed on his website that he visited this store on March 1, 2012. I like the photo he took of the outside logo.
Enjoy the photos!
Related posts