News & Updates: (1) Living Social Starbucks promo/ (2) Salted Caramel Cake Pops / (3) Cinnamon Rolls
First off, I have to apologize for the rapid fire updating blog posts.  I won't be posting this frequently all month.  It just seems like right now there is a lot to write about.  I have three tidbits that I wanted to share with my readers.  I realize that it would be easy to miss these things, and especially if you're not in Starbucks often.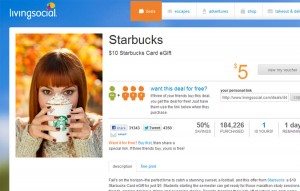 One of my twitter followers pinged me about this Living Social promotion.  This Forbes article has more information.   It appears to be a ONE single day promotion, so I decided I better not wait to write about.  Sign up for Living Social  Buy a $10.00 eGift card and get it for only $5.00.
Do not go into Starbucks asking about this promotion!  You have to do it through the LivingSocial.com website.  And if you wait, it will quickly be gone! 🙂
****************
Salted Caramel Cake Pops: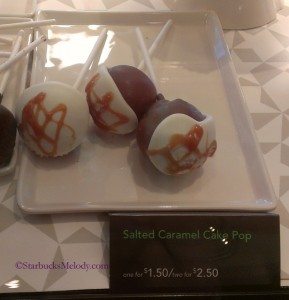 The Salted Caramel Cake Pops are a brand new for this fall promotion at Starbucks.  They have a chocolately-cake texture inside, and a light caramel and salt flavor on top.  I tried one today for the first time.  The inside reminded me a bit of the previously-offered Rocky Road Cake Pop – that very rich chocolate experience.  It was almost a bit rich for me.  The exterior topping was so delicious.  I love the combo of caramel and salt.  I pretty much wish I could buy just the topping.  If you're the kind of person who really wants to only eat the interior of an Oreo cookie, this might be your thing – ordering it and biting off the topping, and tossing away way too much of it.
My overall review is nearly two thumbs up, save the overly rich chocolate interior.  I have no doubt, many will love this.
****************
The Cinnamon Roll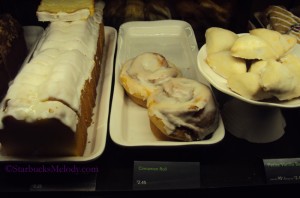 After an extremely long hiatus, the Cinnamon Roll has returned to Starbucks.  I think it's been gone for about three years.   I recall that the "Morning Bun" was considered its replacement, and was launched sometime in 2009 at the start of Starbucks' campaign to remove trans-fats from their food offerings.  And in fact, I bought one this morning very early for breakfast.  I was assured by a barista that there would be no trans-fats in my Cinnamon Roll.
It's nice to have it back.  I will definitely get one now and then.  They're fairly large, so I'd have to be pretty hungry to eat one.  I love the frosting on top.  That's the best part!  (You can see a pattern here –  I wanted to eat just the center of an Oreo, and only the tops of the Salted Caramel Cake Pops.)
****************
****************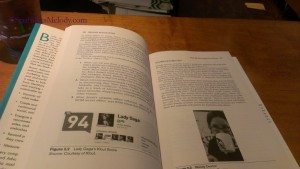 One last little tiny thing:  Rob Fuggetta, the CEO of a company called Zuberance, wrote a book called "Brand Advocates."  He flew to Seattle and did a very short interview of me, and I ended up mentioned in a few pages of his book.  Apparently, after three years of blogging about Starbucks, I am a "brand advocate."  As I skimmed his book, I was more impressed the guy who produces MethodLust – a man truly in love with soap!
I was, and still am, very flattered by the inclusion.  Thank you Rob Fugetta.  It is astonishing to me how many customers create fan blogs for brands.  Just Google "Anthropologie fan blog" and you'll find that their fans are extremely addicted.  If you look, you can find lots of brand fan blogs whether it's Ikeafans or Lululemon Addict or many more.  At the end of the day, it costs money and time to run a blog.  (Thank goodness I type fast. ;)) I really do ask that if you're making a book purchase or any Amazon.com purchase for that matter, please use the widget in the right-hand column of this blog.
Please comment on anything listed above.  There's a lot to talk about.  And again, I apologize for the numerous blog updates.  I realize it can feel disconcerting to feel like you can't keep up with the pace of new articles, so I will try to slow down soon.
Thanks as always for reading and commenting.  I know I say that a lot.  It is because I mean it.
Related posts