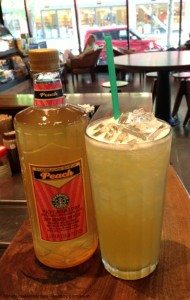 Coming soon: Starbucks Shaken Peach Green Tea Lemonade.  The official launch day is June 25, 2013.  I am pretty excited by it.  It's a flavor that Starbucks tested a number of times before finally introducing it nationally.
In March of 2012, the Starbucks Peach Tea was tested in Austin, Texas; Columbus, Ohio; San Diego, California; as well as a few other locations.  I tried the 2012 "test" version of the Peach Green Tea Lemonade at the annual meeting of shareholders.  Note that the 2012 version of Peach Green Tea Lemonade had freeze-dried peach bits which were constituted when shaken vigorously.  As an aside, it seems that Starbucks has mastered the art of freeze-dried space food and toppings.  They rarely produce anything short of a fantastic beverage topping or inclusion.  From creme brulee caramelized pieces, to chocolate curls, to lime wedges, Starbucks knows how to do toppings and inclusions.  The 2013 test version of the Peach Green Tea Lemonade does not include an inclusion.  It's still delicious!  I tried it just recently at a downtown Seattle Starbucks, and I liked it.  The partners and I joked that it tastes a bit like the flavor of Trolli Peachie-Os.  Of course, it uses the Tazo Green Tea beverage and adds peach syrup.
In March of this year, Starbucks re-introduced Peach again, this time launching it in a large number of U.S. cities, including  Baltimore, Austin, San Diego, Denver, Sacramento, and more.
It's official.  Beginning June 25, 2013, Peach will be available as a syrup option everywhere in the United States.  I'm looking forward to trying it in a Frappuccino!  I still haven't done that.
The official Starbucks blog article on the summer 2013 launch of Peach Green Tea Lemonade is here:
So what do you think?  Sounds like a refreshing summer drink to me!
(PS: I wrote about Starbucks Root Beer not too long ago, and as I understand it, Atlanta and Austin will be testing Root Beer again this summer.  I would love to hear more from readers about that.  Information on how to email me is in the right column of this blog.  Thank you.)
Related posts