Today (November 13, 2012) is the launch of holiday 2012 at Starbucks!  Lots of little gifts, holiday food items, and Christmas Blend coffee are back in stores.  I dropped by the Fourth and Seneca Starbucks early this morning to get a first glimpse of what's landed in stores for this season.
4th and Seneca (Store #392)
1125  Fourth Avenue
Seattle, WA 98101
206 623 0860
It is a photogenic large store, which is selling the Verismo, has a Clover, and it's on my way to work!  I took all the photos below at about 5:30 a.m. to 6:30 a.m., so unfortunately there's no natural light coming in the windows.
The theme this year is "Rekindle" and it welcomes you on the door: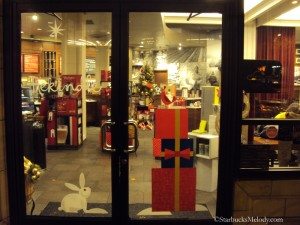 There is large signage for the holiday drinks (Gingerbread Latte, Peppermint Mocha, and Caramel Brulee Latte) next to a Rodarte-designed card and tumbler display: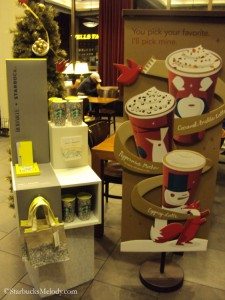 This year there is a tree (I don't recall there being one last year), as well as lots of little gifts.  This year's bearista bear is cute!
I was happy to see the Grandma's Turkey Sandwich is back too.  It has a red sticker on it, making it very easy to spot in the RTD case.  I haven't tried this year's turkey sandwich, but I definitely liked it in the past.  The peppermint cake pops have returned also, as well as the traditional cranberry bliss bar.  This year there is a snowman cookie too.  I didn't take photos of every food item.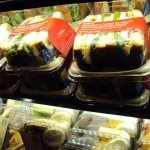 As many people have already started talking about in comments, there is an interesting little paper book that has beverage coupons in it.  The booklet appears to retail for $25.00.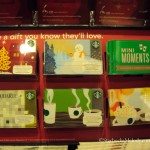 And just to round this out, here are a few more photos of this store:
This was a big overview of what you may find at your local Starbucks for this year's holiday season.   What does your store look like?  At some point, I will do a few blog articles where I shine a spotlight on specific holiday items that are especially intriguing to me.  Obviously I can't cover them all, but there are things like a peppermint chocolate covered treat in a box that I want to try.  And there are some gift items that I want to take a closer look at.
Feel free to talk about anything holiday-related!
Related posts