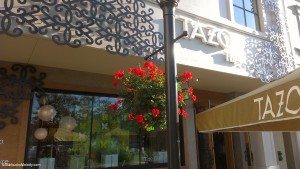 The Tazo Tea store (operated by Starbucks) will be closing this fall.  If you have not had a chance to visit it, you should go soon – within the next month or so.  It's clear from Howard Schultz's comments at the July 25, 2013, investor quarterly conference call, the Tazo Tea store will close.  (You can stream these investor events on the investor relations page on Starbucks.com).  I thought this entire segment discussing both La Boulange and Tazo was interesting – here is exactly what Howard said, verbatim:
In Q3, we significantly expanded our La Boulange baked-goods platform.  Truly delicious and differentiated La Boulange-branded  products  are now available in over 1,000 Starbucks stores across Northern California and the Pacific Northwest.  When you try La Boulange, you'll understand why we're seeing both an enthusiastic customer response and substantial lift in incrementality compared to the baked goods that La Boulange is replacing.  And we are now on track to bring La Boulange food to more than 2,500 of our stores by the end of September, including stores in New York, Chicago, Boston, and Los Angeles.
We are also deep into the strategic development and integration of Teavana.  Tea, as we have shared with you before,  is a 40-billion dollar global category.  And we are leveraging all of our unique internal assets –  including our knowledge in creating best-in-class retail experiences and handcrafted  beverages –  to create a premium tea experience for our customers, just as we have done for coffee.
You will see all of these strengths come together this fall, as we open our first re-imagined Teavana street-front store on New York City's Upper East Side, and evolve the Tazo Tea concept store in Seattle under the Teavana brand. Over time, many unique hand-crafted Teavana tea beverages will also find their way in Starbucks stores.
While it doesn't blare at you in that Howard Schultz quote above, it's clear  that the Tazo Tea concept store will close.  He suggests that these changes -transforming the Tazo store to a Teavana store – will happen this fall – that's right around the corner.
Goodbye Tazo Tea store.  I will miss you!  I loved the Tazo Tea store.  The partners there were all fantastic.  And I loved being able to buy so many rare Tazo teas available only at that store.  I fell in love with Berry Blossom White as an iced tea.  I adored being able to buy a sparkling Bramblewine Tazo Tea beverage.  I expect by sometime in September the Tazo Tea store will close, and there will be construction and remodeling to turn it into a Teavana.
For those that don't recall, the Tazo Tea store opened new November 16, 2012.
I dropped by the Tazo Tea store on Saturday, July 20, 2013, and took all the photos in this article.  I hope you enjoy this trip to the Tazo store – please go visit soon if you can!
(I can imagine that the Tazo card will become much more collectible once the Tazo store closes.  Check out this article for photos of the collectible subsidiary branded cards – Teavana, Tazo, and Evolution Fresh.)
Edit on July 27, 2013:
I dropped by the Tazo tea store this morning, shortly after it opened.  I chatted with a partner about the changes, and 'off the record' he indicated that every Starbucks partner in the Tazo Tea concept store has been 'invited to come work at the new Teavana store.'  For me, that is great news – the Tazo team is super friendly.  I hope that the new Teavana store will carry forward the wonderful momentum started by the Tazo store's current partners.  I don't know how much residual effect the Tazo store will have on the new Teavana store, but I am hopeful that the new Teavana store will set a high benchmark as a tea concept store.  I'm going to start dreaming of sparkling Pineapple Kona Pop iced tea – a Teavana tea that I already know that I like.
Related posts