I was going to take a short break from blogging, but I just can't stop. It's so easy to keep writing.
Starbucks Christmas Blend chalkboard art:
I want to introduce a wonderful Starbucks shift supervisor named Scott, who is am amazingly talented artist.  I love his chalkboard art for this year's Christmas Blend coffee: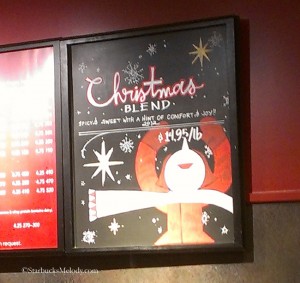 In all honestly, I have no idea why the Starbucks headquarters hasn't snatched up his talent to put to use in their design studios.  The SSC should snatch him up!  He is a very nice guy and passionate about Starbucks.  There have been  previous occasions where I've featured his chalkboard art on this site.  The first was his Christmas Blend art from last year, and then later, I featured his art for the Indivisible promotion.  And then again, I featured his Anniversary Blend  art work in a larger article about partner art.
All of those pieces are hand-drawn by Scott, and have been on display at the Key Tower Starbucks in Seattle.  I enjoy showcasing talent  in Starbucks stores!  Hope you enjoyed  Scott's art too.
Christmas Blend coffee is on sale December 20, 2012 through December 25, 2012: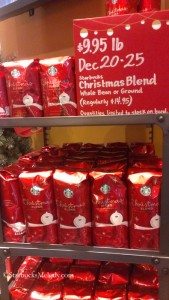 I don't know if all my readers know this, but I wanted to mention that Christmas Blend coffee is on sale right now.  It's $9.95 a pound (normally $14.95) from now through December 25, 2012.  You can pick from any of the three kinds of Christmas Blend: 1) Espresso Christmas Blend 2) Blonde Roast Christmas Blend, and lastly, 3) the traditional roast Christmas Blend.  If you happen to need more coffee at home, this is a good deal.
By the way, here in Seattle, it is likely that there will be several Starbucks stores open on Christmas Day, as always.  You'll find the Olive Way Starbucks open, First and Pike, Westlake Center, Fourth and Seneca, Pioneer Square, and a few more.  Actually, I am puzzled that I've noticed signs on the doors of these stores indicating that they're open 24 hours on Christmas.  That makes no sense to me at all.  I don't recall them ever being open longer than normal hours on a holiday.  I must be mistaken about that – I think I'll go back and take a photo of the sign, and report back on this again.  In any case, there are so many Starbucks in Seattle, that finding one open on Christmas is not difficult.  So you can indeed go run and by Christmas Blend on Christmas Day.
Happy holidays all!  I will try to take a little break from writing now.
Take care,
Melody
Related posts