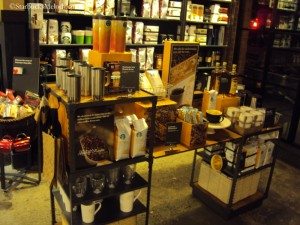 I probably have a few readers who haven't been in Starbucks since the January promo launch, so I thought I would do a run down of what's new.  The January emphasis is on the blonde roast profile coffees, and vanilla flavors.  The Vanilla Spice Latte is the current seasonal beverage.  I think the new set up is very pretty, and I love the signage for the blonde promotion.  And honestly, blonde coffees aren't my favorite.  But the launch has its own elegance.
I like that there are the cute 8-ounce stainless steel tumblers.  And the orange/yellow tumblers are very pretty!  The sticker on them says that they are made in the USA.  There is a new blonde small tote bag, and other cute items like a sugar and creamer holder.  Take a look:
The three coffees featured in the store's coffee baskets are Pike Place Roast, Veranda, and Verona.  And there is a basket with a Valentine's Day mug too: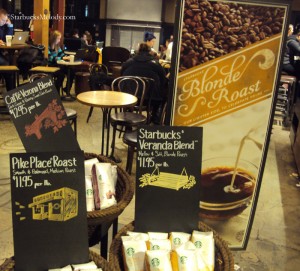 I want to mention just a couple more things.   For readers who haven't heard about it, I want to mention that there is a promotion right now called "Healthy Options" and you earn a bonus star when you order a handcrafted beverage and an oatmeal in one transaction.
I tested it out by ordering a plain tall latte and an oatmeal together, and indeed I received an extra star.  Of course, you can order any handcrafted espresso beverage that you like – though I think the promotion is intended to highlight "skinny" drinks as a healthy option when ordered with the new oatmeal.
Also new for this launch, there is a cheesecake brownie.  I've tried it.  It's pretty good!  It's very rich, but it's a fine dessert!  If you want healthy, look the other way!
I also want to say a huge congratulations to the store manager of this store – the Olive Way Starbucks.  She has been selected to go to Costa Rica on a Starbucks origins trip.  This is the coolest thing ever.  Every year, Starbucks selects store partners to send on trips to coffee growing farms.  It's very hard to get selected, and so it's exciting to know that Gayle is going.  She is totally wonderful.  She's been a Starbucks partner since the 1990s, and if anyone deserves to go, it's Gayle.  Congrats!
Just a few more photos:
CORRECTION on January 7, 2013, at 8:40 a.m.:  As per an email from an official Starbucks spokesperson, a customer receives a bonus star when ordering Perfect Oatmeal, Refreshers, or a skinny handcrafted beverage.  There is no special combination required.
(I still don't know exactly how long the Healthy Options bonus stars promotion is scheduled to last.  Will provide that update as soon as I know more.)
Related posts