Veggie salads coming soon to Starbucks?
Melody, February 13, 2013
18
2 min

read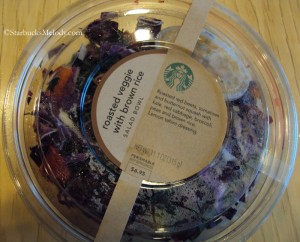 Do you want a salad at Starbucks? I wrote about the Starbucks Chicken Caesar Salad, and the Starbucks Cobb Salad in a previous blog article.  Right now, about 100 Starbucks stores across the U.S. are participating in a little test of Starbucks salad bowls.  I'm not sure if all the stores have all the varieties of them, but I discovered the one store here in Seattle that  has them.  I dropped by and bought a Roasted Veggie Salad Bowl, which comes with a lemon tahini dressing.
My veggie salad had broccoli, squash, kale, roasted beets, and some wild rice in it.  The dressing was fantastic, and complemented it nicely.  At first the dressing was a little bit thick, but it doesn't take too much work to spread it.
Before I talk more about this salad, I should say that I bought it to try it, and this is not the kind of thing that I would normally buy.  I'm not a huge fan of beets.  And while I like a little kale, I don't have any desire to overdose on it.  I do genuinely like broccoli and squash, and I think those who crave healthy veggie offerings at Starbucks will love this salad.  I'll be totally honest: I dream of cheeseburgers and pizza.
Here's what my salad looked like after it was well tossed: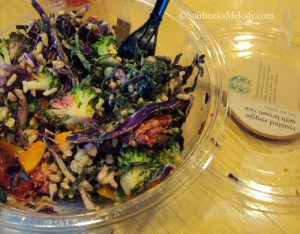 These veggie salads reminded me  a lot of some of the food offerings at Evolution Fresh.  (Click here for my previous Evolution Fresh articles.)  In fact, the lemon tahini dressing was almost identical to one that I've had before on an Evolution Fresh kale salad.  I think it would be fascinating to feature the two salads side by side.  I took a few more pictures while I was in the store, so you can see there was a second veggie salad bowl available also.
By the way, I noticed that the packaging on these salads has a very finished appearance.  It would suggest to me that these salads are selling well enough for Starbucks to invest in final retail-ready packaging.  Who knows?  Maybe we'll see these salads this upcoming summer?  As I always say though, trying to predict what Starbucks will launch nationwide is a pretty risky game!
What do you think?
Edit on 2-13-2013: In the comments, one person has mentioned that these salads are coming to Starbucks in June this year!  I hope so.  That would make sense as salads are traditionally a summer item.
Related posts