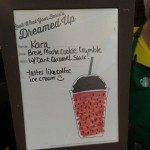 'Tis the season for Starbucks Frappuccino Happy Hour.  It is May 3rd through the 12th, from 3:00 p.m. to 5:00 p.m.  I've noticed that  a number of stores near me have these cute little signs entitled, "Look at What Your Barista Dreamed Up."  I think these little signs are a great idea.  It is kind of fun to see what your barista will recommend.  I went around a took pictures of a number of Seattle stores' signs, so you can see what's being dreamed up in my neck of the woods.
What's your barista dreaming up? 😉
Click onto the photos to make them larger.
Last but not least, I did go to Frappuccino Happy Hour yesterday. I dropped by the Starbucks in the food court area of the Northgate Mall in Seattle.  (That's in a north Seattle neighborhood, about seven miles north of downtown).  They actually didn't look too slammed.  Everyone was friendly, and it was great experience.  Not a barista there knew me.  I confess, I really do like names on cups. I was impressed when the barista called out my beverage as a "Vanilla Bean Cinnamon Dulce Frappuccino for Melody!"  I  just enjoy hearing names and so that was a nice touch.  And so as you can see, I saved $1.73 on my drink!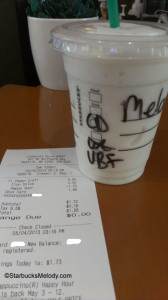 Related posts