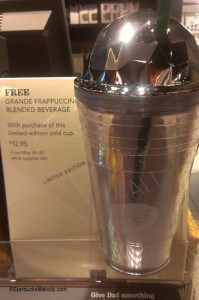 Starting May 24th, (through the 30th of May, or until supplies run out) when you buy a special Frappucino re-usable cold tumbler, you'll get a free Grande Frappuccino!  Just in time for Memorial Day weekend!  It will be warm and sunny in many areas of the country – perfect for Frappuccinos.  (Though  I wouldn't count on Seattle being warm and sunny!)  It sounded like a fun promo to me, and so I thought I'd mention it!
The reusable cold cup comes with a domed lid, but you can buy a flat lid for it too.  The promo cold cup is $12.95.  I prefer the tumbler with a nice flat lid:
And, while I am on the topic of Frappuccinos, a reader on vacation in Tokyo sent in this photo: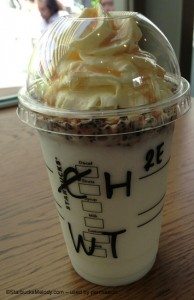 At-home coffee bonus stars:
And on a change of topic, also there is a promo going where if you're buying any at-home coffee (whole bean coffee, Via Ready Brew, Verismo pods, and K-Cups) now through May 30, at any participating Starbucks store, you'll earn 5 stars for each qualifying at-home coffee purchase.  There are a couple of details that are important to know:  you must be paying with a registered Starbucks card, and your profile at Starbucks.com/card must be at the "Gold" level.  In other words, as you know, you don't have to use the actual gold card.  Right now, I am using my Evolution Fresh card.  But you do have to be a "gold" level member of MyStarbucksRewards.  And, as always, I assume that stars will show up in your star history, which you can track online at Starbucks.com or using the iPhone or Android Starbucks app.
(Important edit – 5/25 at 4:57 pm – You do NOT have to be a gold level card holder to earn the 5 bonus stars!  You can be at ANY level of MyStarbucksRewards.  I sent an email to an official Starbucks spokesperson and got a quick reply back:  I have definitely confirmed that the 5 bonus stars is open to all MyStarbucksRewards participants.  My apologies for the confusion.)
This is an open thread.  It's been eons since I've designated a thread as an open thread and I thought it made sense to start a long weekend talking about Frappuccinos – or talk about anything Starbucks-related!
To all my U.S. readers with a three-day weekend, hope everyone has a fun Memorial Day weekend!
Related posts